Skype is clearly the most popular VoIP as for years, it has allowed everyone using an internet connection to talk, send text messages and make a video conference call with other people around the world for free. When it started out, it was a more tricky as when it was launched, many internet users were connected via dial-up internet connection. After more than 10 years of operation, things have changed, most of the people use high speed internet connections which allow Skype users to make a free or low cost telephone calls around the world.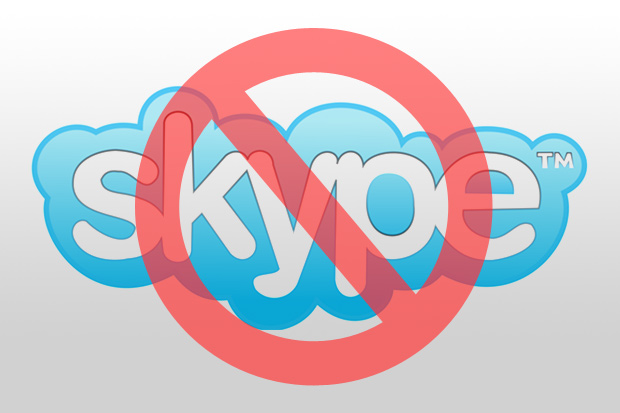 It's not surprising that many telephone operators around the world were horrified when VoIP service providers like Skype launched their services. Due to worry of losing profits, especially on high cost international phone call charges, many ISPs blocked Skype. They say the main reason being high bandwidth usage regardless of Skype actually using a very small amount of bandwidth. Later on, it became known that the main reason for the ban was having these ISPs launching their own exclusive VoIP services. For example, ISPs called ClearWire and Madison River based in the USA were found responsible.
Now most of the countries around the world have allowed Skype as the mode of communication, there are still a number of countries that ban Skype and they do not want to provide their citizens with a free access to reach other people around the world at low or no cost at all.
Unblock Skype with a VPN
Using a VPN service is probably one of the easiest ways to unblock Skype. VPN works as a tunnel that sends all your requests through a secure channel, it allows you to bypass government and your ISPs surveillance. It also encrypts all your online data which makes your internet identity secure and anonymous.
VPN service also lets you to decrees Skype phone call fees. Using a VPN software, pick a server in the US, this will allow you to appear to be located in the US where the charges are lower. Instead of making a video call, make a regular phone call with any of your contacts.
For a better speed, use a server from a country that's closer to you and which allows VoIP services including Skype.
Some of the top VPN providers for Skype include ExpressVPN, NordVPN and Hotspot Shield VPN.
Countries that block Skype and other VoIP services
As mentioned earlier, most of the countries block Skype and other similar services by being profit driver. For example, in Central and South American countries Skype is blocked due to the local service providers that offer both internet and telephone services. As Skype is providing free video and phone calls using the internet, then many telecom companies fear to miss out the revenue, therefore blocking Skype and other VoIPs. Therefore, in some countries Skype and other VoIP services are limited regionally.
However, many countries still have telecom monopolies, which means that there's only one provider in the country that is powerful enough to lobby policies like online service bans nationwide. This has happened in several countries, including Belize. For example, Egypt blocks Skype during times of political unrest as they can't control its users' activities online.
List of countries that have blocked VoIPs and Skype nationwide include Guyana, Kuwait, Libya, North Korea, Oman, Qatar, Syria, UAE.
Some of the countries that have imposed regional limitations on VoIPs include Brazil, Caribbean, China, Cuba, Jordan, Mexico, Myanmar, Pakistan, Panama, Syria, Tunisia, Vietnam, Russia, Venezuela and others.
Conclusion
Many countries block Skype and other VoIP services nationwide or impose some regional limitations on its usage. VPN for Skype is the beat way to bypass restrictions and unblock Skype in a country where it's not allowed. Skype VPN channels the traffic and encrypts your data allowing you to bypass the ban and meanwhile also keep safe and private online.