Internet users in Indonesia
Although smartphone users in Indonesia are growing, the internet penetration is still below 30 percent. This is mainly because of the geographical conditions of Indonesia archipelago. Indonesia has 18,307 islands, therefore makes it hard to provide proper connections everywhere.
The internet use has been increasing in the past years. Based on the International Telecommunication Union, it was 17.14 percent in 2014 and 14.94 percent in 2013.
Mobile phone penetration is much higher. In 2014 it was 127 percent and smartphone penetration was 21 percent. Due to reasonable prices of smartphones, it's more popular to use the internet on a smartphone than on a computer. Phones with Android operating systems that can be bought for as low as US $30. Indonesians spend approximately five hours a day browsing internet. Prepaid smartphone subscription packages cost only US$0.50 per day to $2.50 per month. Therefore fixed line internet subscribers have significantly reduced.
Most of the internet users are based in major cities like Jakarta and Sumatra. This is due to poor infrastructure across the country.
Indonesia's limits online content, blocking and filtering
Censorship in Indonesia is regulated by its ISPs. Although there are few serious regulations in place, in practice it's very inconsistent. Indonesia is second biggest Muslim country. Therefore, it's not shocking that it doesn't support any content related to pornography and religious criticism. In 2008, Indonesia passed a legislation that was harshly criticized by many human rights activists. This regulation would penalize anyone who's damaging reputation of someone with or without intention in the online space. Anyone who's found guilty would be sentenced six years in prison and a huge fine.
In 2010, the Indonesia government announced the Regulation on Multimedia Content. This regulation requires the local ISP to block any content related to pornography, false information, hate provocation, confrontation of violence, gambling sites and others. Luckily, it still hasn't been approved due to strong public opposition of this legislation.
Using a VPN for Indonesia
One of the best ways to bypass Indonesia's government censorship is to use a VPN software. Indonesia VPN works by encrypting your online data that flows between your device and a VPN server. In this way, no one including your ISP cannot see your internet activities. Neither it can be tracked or monitored.
Most of the VPN providers in South East Asia have servers either in Singapore or Hong Kong. In Hong Kong there's very little internet censorship. Also, it doesn't have any mandatory data retention schemes. Which makes it a very popular place for VPN providers to place their servers there. It's also of course very important for internet users to connect to a server that provide such a strong security online. On the other hand, Singapore is closer. Therefore the lag time can be smaller. While, it also has stricter internet regulations in comparison to Hong Hong.
Unblock content with VPN Indonesia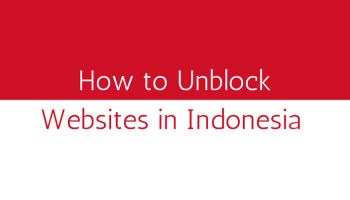 A VPN for Indonesia connection not only help you to bypass censorship in your own country, but it also provides an access to international content that are blocked due to geo-restrictions. There are a lot of popular services from countries like USA and the UK which are  blocked in other countries. Some of the most popular sites that Indonesian VPN can unblock are BBC iPlayer, Rara, MTV, Deezer, Netflix, iTV PLayer, Eurosport, Vevo, USA Network, Global TV, Pandora, Spotify, HBO Go, CWTV, TV Tokyo, Amazon Prime, Bravo, ProSieben, Sport1, Star TV, Xfinity, NHL, CBS, Demand 5, Arte, Sat.1, Film1, MLB, STV, Hulu, UK TV, Much Music, City TV, Canal+, Pluzz, D17, TV Asahi, Vox, AT5, TV Lab, FOX, NBC, 4OD, RTL and CBC from anywhere in the world.
Unblock Indonesian Sites with a VPN
If you are traveling or based outside of the Indonesia then you most likely will experience restrictions when trying to access many Indonesian websites and services. Most of the Indonesian TV websites impose Geo-restrictions on its content. That means that its video content are not available outside of Indonesia. With a VPN for Indonesia you can easily unblock any Indonesian sites from anywhere in the world. With an Indonesia VPN you can access and watch Indonesian TV channels no matter where in the world you are based.
Torrenting and P2P Filesharing
As you may know the regulations about file sharing and content downloading online varies from place to place. Some countries are very strict and have made it illegal. An Indonesian VPN service can hide your registered IP address and provide you with a new one. By connecting to different locations, you can pick a place where your new IP address will be registered at. Therefore, you can connect to a server which is more torrent friendly. One of the most torrent friendly places is Switzerland. Based on their regulations, it is legal to download files online as long as it's only for a personal use and not for making any profits. It's also safe to use torrents in Spain and there are other torrent friendly places. This includes Canada, The Netherlands and Mexico.
Tips for selecting an Indonesian VPN
If you are looking to stream videos and access blocked sites, then you should consider the following tips before signing up to a VPN for Indonesia:
VPN Server Location
The Indonesia VPN service lets you to connect to a server in a different location. It also provide you with a new IP address from the location you have connected to. Depending on your needs, you may require faster VPN speed. If you wish to stream videos then you will want to have a VPN server closer to your actual location, so that you get faster speed. If you wish to unblock sites from other locations then you will need a VPN server in the location where there are no access limits.
So, if you live outside of the Indonesia then you may want to unblock sites from Indonesia. Therefore, it's important to get an Indonesian VPN service with servers in Indonesia.
VPN Speed Limits
Some Indonesia VPN providers offer their service with a speed restriction. The best is to get a VPN service that doesn't limit your speed, so you can use video streaming services without experiencing speed loss.
VPN Bandwidth Restrictions
Bandwidth is another very important VPN feature. If you are getting an Indonesian VPN for watching videos online then it might be especially important to get a VPN that doesn't have any bandwidth limitations. Pay attention to this when choosing your VPN for Indonesia.
VPN Encryption
Encryption is very important if you intend to use an Indonesia VPN to protect your online identity and stay anonymous. It will provide you a security when surfing the internet. Most of the Indonesian VPN providers offer 128-bit encryption. However, we recommend looking out for a VPN service with 256 bit encryption because it is more reliable.
VPN Privacy Policy
Before buying a VPN for Indonesia, make sure you familiarize yourself with a service privacy policy as it is an important factor for your security. If the Indonesian VPN provider doesn't keep logs that means that it offers the best level of online security.
VPN Price
The best Indonesia VPN providers come with a small monthly, bi-yearly and yearly subscription fee. Remember, that good services are never free, so be careful if you plan to sign up with a free VPN service.
Money Back Policy
Most of the best VPN providers offer a money back guarantee. This can serve you as a great way to test the service for a period of up to 30 days. However, if you are not satisfied with the service, then make sure to cancel it before the money back guarantee expires.
Free VPN Trial
Some Indonesian VPN providers offer a free VPN trial, which is the best way you can test it and make sure that the VPN serves the purpose you intend using it for.
File Sharing
If you want to get a VPN service to make your torrenting more secure and anonymous, then you should make sure that your VPN provider allows file sharing on its servers. Some of the Indonesia VPNs prohibit this activity on its servers.
Customer Support
Another important thing to look at before selecting a VPN, especially if it is your first time using such a service. Many providers offer live 24 hour chat on its website allowing you to quickly reach the support team and solve the problem fast.
Conclusion
VPN for Indonesia is the best tool to bypass internet censorship, unblock websites and download movies and TV-shows using torrents. It also allow to stream live events like Formula One, English Premier League, World and Euro Cup.  It is also good for keeping your gaming experience safe and reliable. An Indonesian VPN encrypts your data and it does not keep any logs. As a result, keeping you protected from any third party, even your ISP. Choose one of the top Indonesia VPN and use the internet the way you prefer.