TotalAV Price Plans
TotalAV has three subscription plans: Essential Antivirus, Antivirus Pro, and Ultimate Antivirus.
<>Essential Antivirus> is the most basic plan. It allows 1 device use of award winning antivirus, system scans, real-time protection, malware quarantine, virus removal and 24/7 technical support. The official subscription price is $79.95. However, today it offers a special discount of 75% discount off.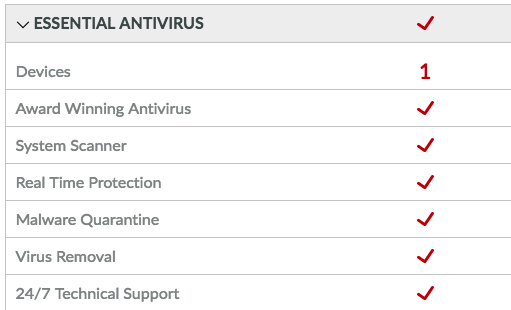 <>Antivirus Pro> has the same features like Essential Antivirus. However, instead of one device's use, you can download it on 3 different devices. It also offers other features like Drive Accelerator, Disk Cleaner, Start-Up Guard, Advance Firewall and Duplicate File Removal. TotalAV Antivirus Pro original price is $99.95, but today you can sign up only for $49.95.

<>Ultimate Antivirus> is TotalAV's the most advanced antivirus program. It offers the same features as Antivirus Pro. Plus, it allows software usage on 5 different devices with the same account. Furthermore, it has features like PC Tune-UP, Browser Manager, System Booster, Web Security and PC Optimization Tools. Regular price $139.95, but only today you can get it for $49.95 per year.

TotalAV payment methods include credit cards like Visa, Master Card, and American Express. Also, you can settle your payment with PayPal.
TotalAV Features
Here are some of the best features that are worth mentioning in this TotalAV review.
Total AV offers many features that can make your computer safe from any threats. It provides its users with TotalAV's antivirus software. It offers its users with an instant and full control over cyber threats. Another feature is internet protection. This gives your device an extra layer of protection, blocking malware and another virus at the source even before the download begins. Performance Enhancer is another superb feature that makes TotalAV antivirus great. It helps to increase the speed and performance of your device by identifying and fixing all issues fast. The System Booster feature by removing unwanted duplicate files lets its users open up a lot of space on its drive.

While writing this TotalAV review, we found out that the upcoming software update will introduce more features. It will include a file manager, browsing performance enhancer, firewall enhancer and parent control.
TotalAV Antivirus Software
TotalAV has developed an easy to use software that allows you to protect your device from harmful viruses. The process includes scanning and locating, quarantining and eliminating malware, trojans, and other threats.
The main functions that Total AV antivirus software offers are:
<>Quick Scan> that performs a fast scan through your Desktop, Startup, Browser, Folder, Cookies, and Cache. This process makes sure your device is virus free.
<>System Scan> is a full scan of the Internal Disk.
<>Quarantine> is a restricted area on your disk where malicious items are stored. They can be easily deleted and restored if necessary.
<>Real Time Protection> protects your device in real time from virus threats by stopping it from entering your device.
TotalAV Antivirus Device Compatibility
Total AV antivirus has developed a software for both computers and mobile phones. You can download TotalAV antivirus software on your Windows and Mac operating systems. Furthermore, its mobile phone apps are available on Android and iOS smartphones and tablets.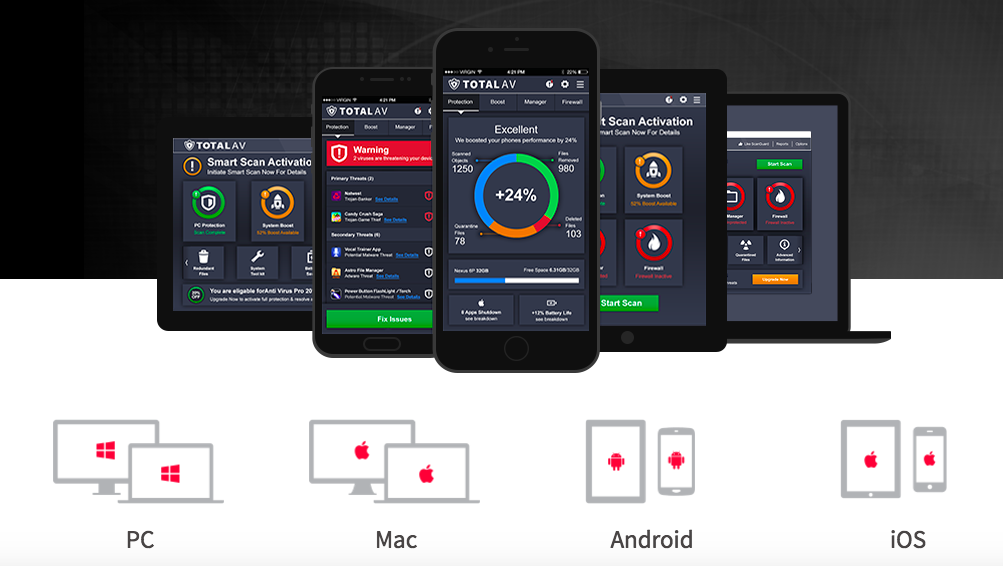 Currently, Total AV antivirus software can be used on only one device, however, it also offers a home package for people with more devices which allows 2 additional licenses. Another option is a family package that gives you 5 additional licenses. TotalAV also has Smartphone Optimizer Package for anyone who's only interested in protecting their smartphone and tablet.
TotalAV Customer Support
Total AV provides a customer service and support. There are several ways how you can get in touch with TotalAV antivirus provider. If you need help or have any questions you can get in touch with its team by sending an email or making a phone call. However, if you don't enjoy waiting for the replies or talking on the phone, then you can also start an online chat directly on Total AV antivirus website. It's a 24/7 live chat with a fast reply time.
TotalAV Review Conclusion
TotalAV antivirus software is the best antivirus available. You can start with a quick scan to determine if there are any threats on your device and continue with the full system scan. Furthermore, TotalAV also provide a free antivirus scan and many other features. TotalAV antivirus price is very compatible, in fact, it would be to find some other antivirus software which offers so many great features for such a good price.
If you have any questions or comments in regards to this TotalAV review or any of its features, do leave a message below. We will get back to you as soon as possible.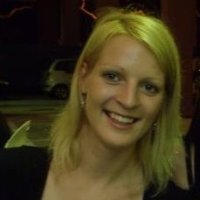 Author:
Inga
I'm a freelance writer living in Canada. Highly interested in topics on technology, online surveillance, and censorship. Love traveling and outdoor activities.