Why Cut the Cable Cord with VPN
There are two main reasons why using a VPN service can be very beneficial when cutting the cord:
1. VPN service allows you to bypass content blackout that is one of the biggest cord cutters enemy. Content blackout is when an event that is scheduled to be broadcasted is not televised in some particular market. Content blackouts are very prevalent in the sports industry.
For example, NBA League Pass which is a very popular live NBA streaming service doesn't let you stream local broadcasts. People residing in New York City are unable to watch Knicks games due to the blackouts on NBA League Pass. However, anyone from another part of the country will be able to watch NBA Knicks games without any problems. It is very annoying. However, it won't be changing in a foreseen future. The main reason for these blackouts is for organizations like NBA to get local teams for earn money off of local TV broadcasters. It's the same in other sports like MLB, MLS, and even NHL.
It is similar in other industries. For example, Netflix changes their libraries based on your location too. The most comprehensive Netflix library is available for USA residents. Even Canadian Netflix is missing many popular movies and TV-shows.
2. VPN service allows you to unblock content from other countries. Popular streaming services like Sling TV, DIRECTV NOW and PlayStation Vue services are only available in the US. Therefore, people from other nations are unable to access these services.
VPN service allows users to connect to a server in another location which will change their actual IP address to the new server location. Therefore, enabling users to get around content blackouts and also unblock websites and services from other countries.
However, there are some prerequisites when choosing a VPN service; below I will share with you a step by step guide to cutting the cord and what are some of the best VPN to cut the cord.
Step by Step Guide to Cutting the Cord with VPN
It is easy to use a VPN to cut the cord. In this guide, I'm going to use ExpressVPN which is one of the best VPN to cut the cord. However, our other recommended VPNs are as easy to set up and use.
Step 1: Create an Account with a VPN Service
Creating an account is simple. Open your preferred VPN service website, and make an account subscription by paying for your chosen plan.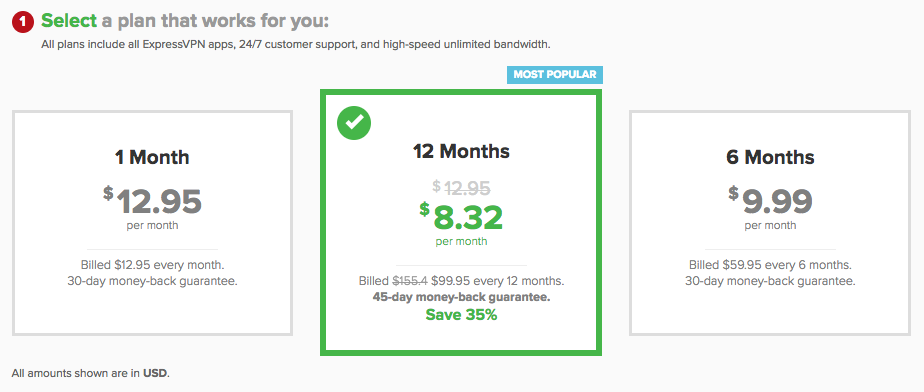 ExpressVPN has three different subscription plans. And all of it offers 30 days money back guarantee.
Step 2: Download and Install VPN Software
On your chosen VPN service website, you will be able to access download files of VPN software for all its support devices.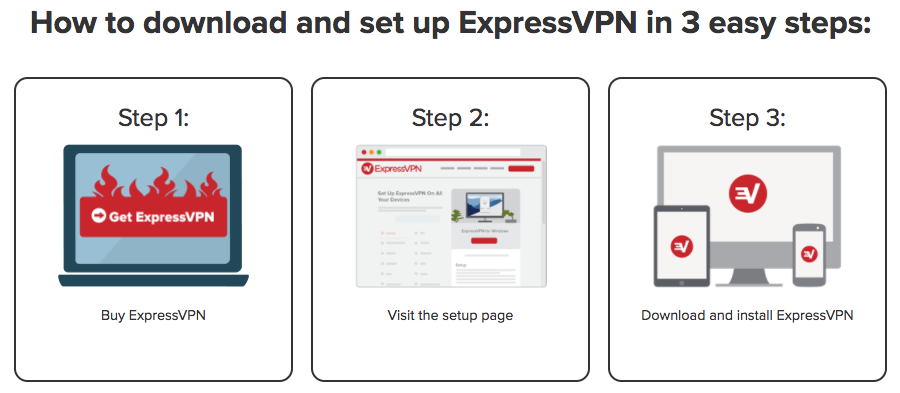 ExpressVPN supports the following operating systems: Windows, Linux, Mac, Android, iOS (iPhone and iPad), Blackberry, and Routers.
Furthermore, on your chosen VPN website, you can access setup tutorials for all the devices.
Note: Because you will need to download software on your computer or mobile phone, security wise we advice choosing a trustworthy VPN provider.
Step 3: Login and Connect to a VPN Server
After you have downloaded and set up your preferred VPN service, you're ready to log in and connect to a VPN service.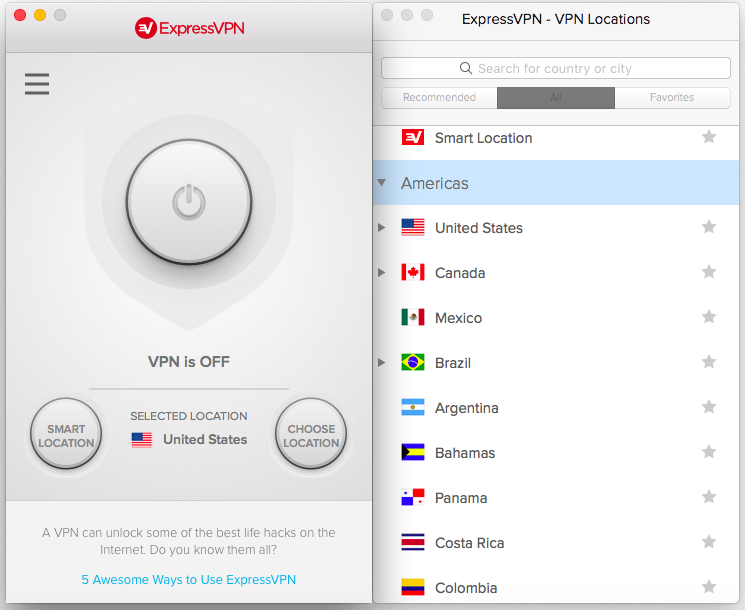 Choose a server in a location where the service you intend using is available. If you wish to unblock Sling TV from outside of the USA, then you'll need to choose a VPN server in the US. If you are residing in a Cleveland and want to watch Cavaliers game with NBA League Pass online, then you'll need to connect to another US location where the blackouts don't apply for the particular match.
Step 4: Cut the Cord
Once you have picked the VPN server and connected to it, you are ready to get access to the cord-cutting service that would be otherwise unavailable.
Best VPN to Cut the Cord
There are a few things to consider when choosing a VPN service that would serve as a tool for cord cutting. It is especially important if you are looking to unblock content from other countries or bypass blackouts.
When selecting a VPN service, make sure that the VPN service has:
1. VPN servers in the location where the cord-cutting service is available. For example, if you intend to unblock service that is available only in the USA then your chosen VPN service should have at least one server in the USA. Furthermore, the best would be to have multiple servers as the Unites States is a big country. The further distance between your actual location and a VPN server, the slower speeds you may experience. Therefore, it can negatively affect video streaming quality.
2. No logs policy. It means that your VPN service doesn't keep track records on your activity online. Therefore, in the case of government requesting for such information from your service provider, it doesn't have to comply with the regulations purely because it doesn't even have any records to pass over to the authorities in charge.
3. Unlimited bandwidth and speed. Make sure that you are equipped with necessary bandwidth and speed to do a secure video streaming online.
Find a list of our most recommended and the best VPN to cut the cord above the article. And do let us know if you have any further questions on how to use a VPN for cord cutting.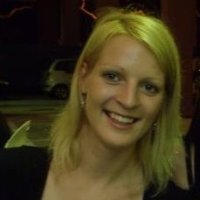 Author:
Inga
I'm a freelance writer living in Canada. Highly interested in topics on technology, online surveillance, and censorship. Love traveling and outdoor activities.