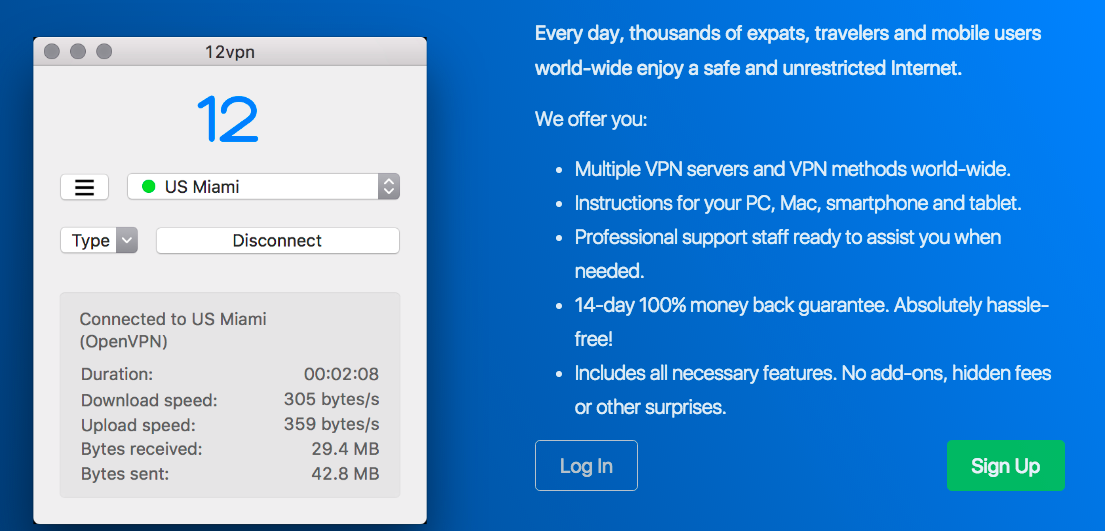 12VPN Servers and Locations
12 VPN servers are located in 19 countries around the world. You will be able to connect to a VPN server in Australia, Canada, France, Germany, Hong Kong, India, Israel. Italy, Japan, Netherlands, Poland, Russia, Singapore, Spain, Sweden, Switzerland, Taiwan, UK and the USA. As 12VPN offers a server in the Hong Kong then it's a great option for Chinese internet users as they can connect to nearby server and enjoy the security, anonymity and fast speeds while browsing the internet.
12VPN Device Compatibility
12VPN allows you to connect to your Windows and Mac computers and get a 12 VPN software from its website. 12 VPN also supports smartphones and tablets that have iOS or Android operating systems. You can also use 12VPN within your Google Chrome browser as an extension. Plus, 12 VPN supports also DD-WRT and Tomato VPN routers.
12VPN Security Protocols
12 VPN supports several security protocols, it includes protocols like OpenVPN, Stealth VPN, OpenConnect, OpenWeb, SSTP and Twelve for Chrome. Stealth VPN is a great option for firewalls as it's hard to detect by applications that intend to block VPN traffic. On the VPN software you can also indicate if you are trying to access China Web and it will provide you with an extra encryption and privacy.
12VPN Privacy Policy
12VPN record and stored users' login and logout data for 30 days. It also records errors related to the VPN service and keeps it for 24-48 hours, it's used for troubleshooting purposes.
Unblock Sites with 12VPN
12VPN allows its users to access sites and content that normally would be inaccessible from their location. Connect to any server from the list of 19 countries around the world and you will be able to unblock content that typically are geographically restricted. This tool is great for people who are travelling and want to access content from their home country and also it's extremely popular with Chinese users as they can bypass restrictions imposed by the Great Firewall of China.
File Sharing with 12VPN
12VPN doesn't allow file sharing and torrenting. In fact, in its privacy policy that you can access on 12 VPN website, there's a section about content transfer policies which says the following:
We do not allow any of the following content to be transferred through our servers:

( 1 ) Content of an illegal nature or copyrighted material.

( 2 ) Pirated software sites, Hate sites or content that could be reasonably considered as slanderous or libellous. Anuson Limited representatives will decide upon content that is questionable regarding any of the aforementioned criteria.

( 3 ) Users transferring any of the above through our servers may have their account temporarily suspended. A repeated offence may cause cancellation of service without refund of any fees.
12VPN Customer Support
12VPN doesn't offer 24/7 live chat, but you can get in touch with its customer support team through email. Our experience has been pleasant and we have received a reply within 24 hours.
12VPN Subscription Packages
12VPN offers two kinds of subscription plans, you can sign up for its Basic or Unlimited plan. You can also separately purchase a plan that is only meant for your smartphones and tablets.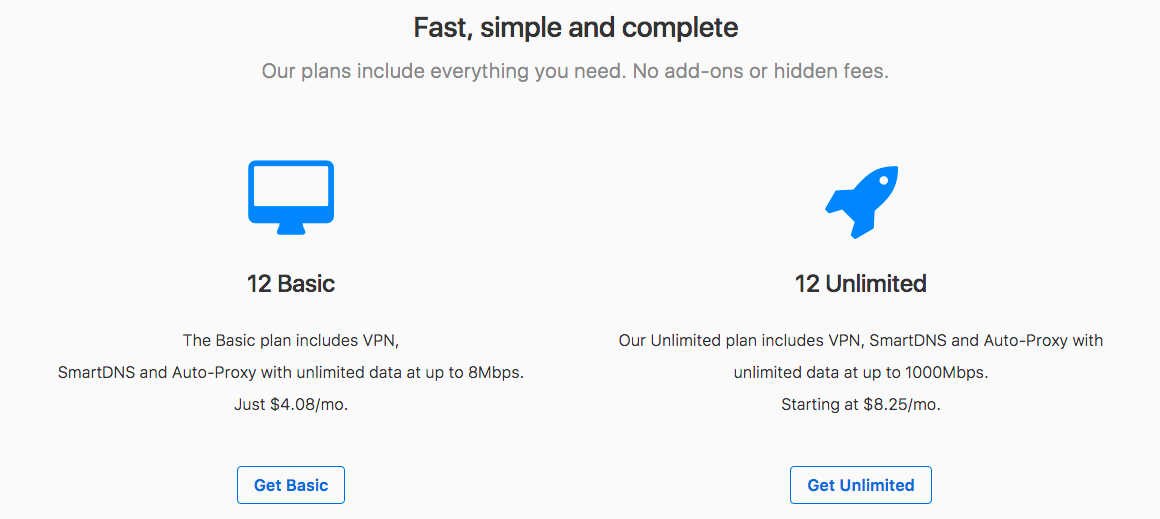 12VPN Basic Plan
It includes VPN service, SmartDNS and Auto-Proxy. It comes with an unlimited data up to 8Mbps.
12VPN Unlimited Plan
Unlimited plan includes same VPN service, SmartDNS and Auto-Proxy but its unlimited data is up to 1000Mbps.
Mobile Plan
12VPN offers a subscription plan for its mobile users. This allows usage of 12VPN only on Smartphones and Tablets.
12VPN Money Back Guarantee
12VPN offers 14 risk free days for you to try out its service, if you aren't satisfied with the service you can apply for the money back and no questions will be asked within this period of time.
12VPN Payment Options
12VPN supports PayPal, Visa, MasterCard and American Express as a payment methods.
12VPN advantages:
100% works in China
SmartDNS and Auto-Proxy included
Mobile Plan
Chrome extension
12VPN disadvantages:
Doesn't support file sharing and torrenting
Not many server locations
12VPN Review Conclusion
12VPN is a great option for internet users in China, its closest server location is in Hong Kong and it offers another 18 server locations. 12VPN supports major security protocols, including the Stealth VPN which is perfect to bypass firewall restrictions. With 12VPN your internet network will be secure and anonymous, and it will allow you to unblock sites from other countries without any problems.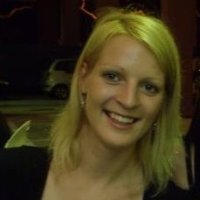 Author:
Inga
I'm a freelance writer living in Canada. Highly interested in topics on technology, online surveillance, and censorship. Love traveling and outdoor activities.