EarthVPN Servers and Locations
Currently, EarthVPN offers servers in 54 countries, 190 locations across 6 continents. Some of the locations include Canada, USA, Mexico, Chile, Argentina, UK, Spain, France, Italy, South Africa, Israel, Egypt, UAE, India, Indonesia, China, Australia, New Zealand and many more. 
EarthVPN service users are offered unlimited network transfer speeds that reach up to 1Gbps on all its servers around the world.
EarthVPN homepage also allows you to test the download and upload speed in each server location.

EarthVPN Set up and Compatibility
Earth VPN has a very user friendly and nicely designed website which gives the main idea about what EarthVPN is and, what features and benefits it offers. You can also find FAQ section, Speed Test and Sign up page.
Signing up to an EarthVPN is very simple and it takes about two minutes of your time. After signing up you can download Earth VPN software. It is compatible with Windows, Linux and Mac computers and also you can use it on your iPhone, iPad and Android devices. All installation guides can be found on EarthVPN website. 
Downloading and installing VPN software is one part that we feel it could have been better planned out. It's a little bit tedious and can make a regular user confused about the choices he should make. For example, instead of directly connecting to the most secure VPN protocol OpenVPN, it gives security protocol options. Although it might be useful for people who are looking to connect to other security protocols, it isn't that great and convenient for the VPN rookies.
During the setup process, we noticed that there is also an automatic setup available for non technical people, however it isn't that obvious. If you still prefer doing the manual setup, then the fortunate is that it's very straight forward, easy and clear to follow.
Once you have setup and ready to use, you will realize how easy and straightforward its VPN software is. Regardless of the setup mode you choose, EarthVPN will notify you once you have established connections and ready for a secure internet browsing.
EarthVPN Security Protocols
EarthVPN supports all the top VPN security protocols, you can choose from OpenVPN, PPTP, L2TP and SSTP. OpenVPN is known for being the most reliable and the best VPN security protocol. It provides a very high security level by using cutting-edge encryption protocols that fully protect and keep your data safe from unauthorized access. EarthVPN provides 128bit AES & 2048 bit RSA encryption.
EarthVPN also offer SSH Tunnel/Socks Proxy for the users who don't find previously mentioned VPN protocols suitable for their needs.
EarthVPN Privacy Policy
EarthVPN has a very straight forward privacy policy which can be accessed on its website. As EarthVPN is located in Northern Cyprus then there is not any legislation in regards to data and log retention. It also promises not to log VPN usage nor its user activities. Therefore, if someone comes after for your browsing data, there won't be anything available to display.
This is a really great VPN feature, especially because more and more countries after the UK, Australia, New Zealand and USA have been considering to pass data retention schemes which would allow its government to spy on its internet users.
Unblock Websites with EarthVPN
Using an EarthVPN service you won't have any problems to access any websites and services online. Regardless of your actual location in the world, even if you are in China, Middle East of Africa, EarthVPN will provide a strong encryption, help you to hide your IP address and unblock sites and services without any problems. By changing an IP address to US, you will be able to access Netflix US, Hulu, Fox and many other Geo-restricted sites. By connecting to a server in the UK, you can watch BBC iPlayer and Premier League for free from anywhere in the world. You can stream other big sport events like Formula 1, Wimbledon, Olympic Games, US Open without problems.
EarthVPN Customer Support
EarthVPN 24/7 customer service and technical support through email and support ticket on its website. EarthVPN is fast with troubleshooting issues, fixing installation problems and a lot more. 
EarthVPN Subscription Packages
EarthVPN has two subscription options, you can sign up for one month at a fee of $3.99 or you can go with a yearly package which is only $39.99 per year. Signing up for its yearly package you will save two months of subscription fee by going month to month.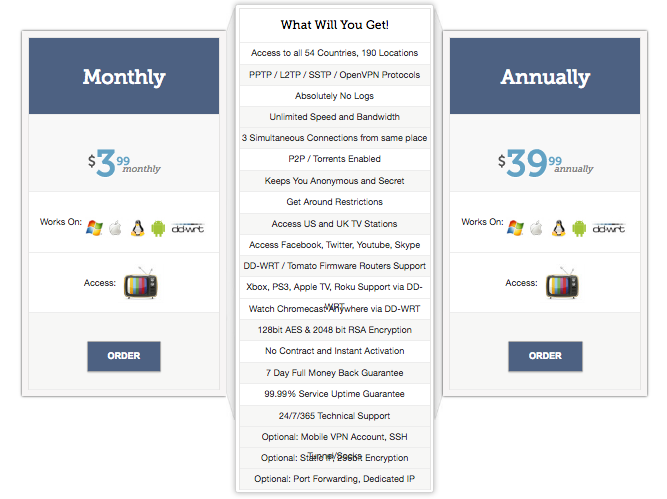 The EarthVPN is one of the most affordable VPN providers we have reviewed. Having said that, EarthVPN offer as many or even more VPN features than other VPN providers for a lot higher subscription rate. 
Subscription fee includes access to all server locations, security protocols, unlimited speed and bandwidth, even 3 simultaneous connection from the same location and many more.
EarthVPN prove also several add-ons which can be purchased separately for $1.99 per month or $19.99 signing up for a year. Some of the add-ons include SSH Tunnel/Socks Proxy or Torrent Proxy, Shared Static IP, Dynamic Port Forwarding, Unshared Dedicated IP, Additional VPN Connection for Mobile Devices and Top Secret Level 256bit Encryption for AES and SSL.
Although EarthVPN doesn't provide a free trial, however, it offers 7 days money back guarantee policy. So if you wish to try out service first and you aren't happy about some features, you can request for refund with seven days from the day of the service purchase.
Earth VPN also accept several modes of payment options, some of it includes Paypal, Credit Cards, Bitcoins, Alipay, Unionpay, Webmoney, Paysafecard, Cash U, Ukash. They are also considering adding more payment options within a near future.

Earth VPN advantages:
Cheap basic packages with optional add-ons

99.99% service uptime

Provides confidentiality

Many server locations

Provide server speed test
Earth VPN disadvantages:
No live support

Only 7 days money back guarantee

Setup could be more straight forward
Conclusion – EarthVPN Review
EarthVPN provider offers a reasonable VPN service. Although it provides a service for a very small fee, it offers many features that many other VPN providers don't or for a lot higher subscription fee. Many may think that EarthVPN is a honey pot, it clearly isn't. EarthVPN believes in a total freedom, whether it's in a real life or online, therefore it wants to be able to provide it to everyone, all around the world. We are impressed for its ability to provide such a good service and so many useful features. We are recommending this service to anyone who's looking for a simple protection and users with budget constraints.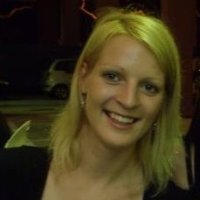 Author:
Inga
I'm a freelance writer living in Canada. Highly interested in topics on technology, online surveillance, and censorship. Love traveling and outdoor activities.