With built-in Adblocker, Anti-Malware and NAT firewall, FastestVPN makes sure you get the best online experience with complete privacy and security.
There has been a few updates to their security protocols and features, which has made FastestVPN even more secure and easy to use. Looking at price, it may come as a surprise to many that a VPN with such features can be that much affordable.
Privacy and Security
Since FastestVPN is a Cayman-islands based VPN service, it allows them to evade any type of legislation such as the one in the United States. Because of this, we can fully trust that its service will guarantee anonymity.
FastestVPN seems well equipped with all the privacy features. Their system comes with a number IP addresses for complete anonymity against data snoopers, ISPs, and intruders. Apart from that, FastestVPN is also equipped with a highly protective Anti-malware software that is great against malware.
A good thing about FastestVPN, when compared to other top VPN services, is that it offers ad-blocking services. This Ad-blocker basically blocks unfavorable advertisements that usually pop up with an uninterrupted screen. Features like these are what makes a VPN standout from other providers.
Last but not the least, FastestVPN also has NAT Firewall that protects user's network from various kinds of threats.
Payment method is another feature that adds value to an online service. In case of FastestVPN, they are providing multiple payment options including Credit Card, AliPay, PayPal and Bitcoin.
Software
The FastestVPN desktop app has a very intuitive and pleasant interface. It's easy to use and includes all features they claimed to offer. Their desktop app is subscription based that can be downloaded easily from their website.
Some of the main features in their desktop app includes secure encryption, malware blocking, IP masking, and privacy browsing.
In certain aspects, it has a similarity to what the interface of an app as dynamic as Skype offers. Again, the app is secure and very user-friendly.  
Features
FastestVPN has somewhat similar features to what other VPN providers are offering. This doesn't make their features any less great. In fact, their security features are much more advanced that other providers. Not only do they offer OpenVPN AES256 Protocol, but also PPTP, L2TP, OpenConnect, IKEv2, and Xsec.
Another thing I like the most about FastestVPN is that they allow five simultaneous connections on any device you own.
FastestVPN also enable users to unblock geo-restricted networks, websites and channels such as BBC iPlayer, Hulu, Popcorn Time, etc.
FastestVPN allows user to change their IP address in 10+ available countries and adding continuously.
FastestVPN is compatible with Android, Windows and iOS.
They are also offering Unlimited bandwidth speeds, so users can browse, play or download anything they want.
Additionally, they also offer unlimited P2P traffic with anonymous torrenting. 
Lastly, they provide 24/7 friendly customer support with live chat.
Speed
We ran some speed test for both browsing and torrent downloads. Overall, the browsing speed was great, but there were delays in finding the right server. The torrent download speed didn't disappoint either.  
When we compare their speed test results with that by other providers, there isn't much difference between them, but with such a low cost to it, we think it's the best in terms of money spent.
Mobile Performance
We test their mobile app on an Android Phone and it turn out to be a very user-friendly app. The navigation and buttons where perfectly placed, and the screen didn't look congested. We were totally satisfied with the app in terms of usability. Performance wise, the app was fluid and responsive to each click. Browsing was quick, but downloading on mobile devices was not up to the mark.
The server list was easily accessible from the app, and the app quickly connected to the best server available. We were able to stream HD videos smoothly without any buffering. We also performed some heavy-traffic tasks with ease.
Overall the test results on the android device were great in terms of both performance and usability, and we believe it's the same on other platform devices as well.
Pricing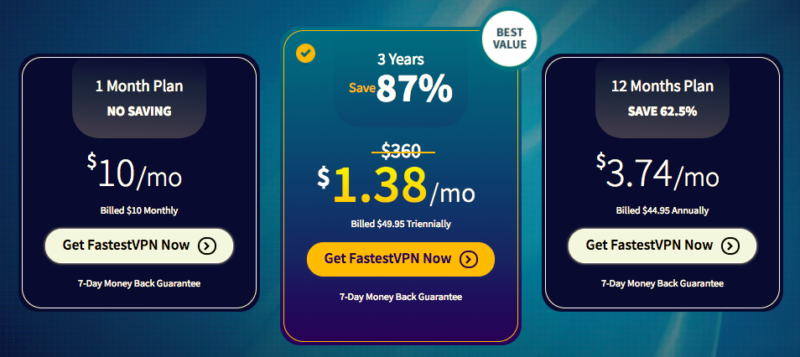 In comparison to other VPN providers, we found FastestVPN to be the most affordable one. Currently, they have three basic pricing plans and one special winter deal that you can see below:
Special Deal (5 Year Subscription)
5 Year Plan for just $1/month

Savings: 90%

Price: $1/month (total $60.00 instead of $600)

7-day money back guarantee

All features
Monthly Subscription
Price: $10.00/month ($10.00)

30-day money back guarantee

All features
Yearly Subscription
Price: $3.74/month instead of $120 ($44.95 annually)

Savings: 62%

30-day money back guarantee

All features
3-Year Subscription
Price: $1.38/month instead of $360 ($49.95 prepaid only)

Savings: 87%

30-day money back guarantee

All features
You can see FastestVPN is offering packages only based on time duration that includes almost all features offered by them. This is great, even if you choose a monthly subscription, you will get all the features that is offered in other packages.
Their Winter Deal is also one of the cheapest in the market. We may have not subscribed to this one, but we believe that it offers the same performance and security as other packages.
Support
FastestVPN support does have a 24/7 live chat that you can start by filling a form in the chat bar. I tried the online chat at different times of the day and they always answered my questions within a few seconds. In addition, they also offer FAQ service and blogs where they provide step by step guides and discuss issues related to VPN market.
Another way to interact with their technical team is through social networks such as Facebook and Twitter, which allows you to participate actively through these media.
So in the aspect of support FastestVPN has the best guarantees for users.
Conclusions
They have a very fast-growing global coverage, with a wide range of features to guarantee great speeds and security from its users. Its management systems and network protocols will make the user feel protected, and the ease with which user can choose the right server to enable privacy is remarkable.
The security encryption protocols and the fact that they are based in Cayman-island, are the two facts that users must considered when choosing a VPN service.
The versatility of connecting multiple devices as well as Smart TVs becomes a huge point in favor of their coverage.
Here are a few things we really liked and hated about FastestVPN service:
Liked:
Compatibility on multiple platforms

High security

Desktop and Mobile friendly Apps

Multiple payment methods

Unlimited P2P traffic

24/7 customer support

7-day money back guarantee
Disliked:
We feel that FastestVPN is a top-level VPN service, even though relatively new, they have tons of promising features that every user wants from a VPN. There aren't many things that were bad about their service, but overall, FastestVPN looks promising and is a great contender to take on the VPN throne.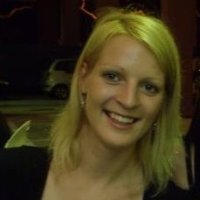 Author:
Inga
I'm a freelance writer living in Canada. Highly interested in topics on technology, online surveillance, and censorship. Love traveling and outdoor activities.