Hide Me VPN Servers and Locations
Hide Me VPN has 88 servers in 29 locations across all continents. In North America you can connect to servers in the USA and Canada, in South America Hide Me has a server in Brazil. It has also a lot of servers in Europe, some of the places include London in the United Kingdom, Frankfurt in Germany, Stockholm in Sweden and many other places in Europe. You can access servers also in other parts of the world, to name some, connect to servers in Melbourne and Sydney in Australia, Tokyo in Japan, Marrakesh in Morocco and a server in Singapore.
Hide Me VPN Compatibility
Hide Me VPN software is compatible with all the main devices available. You can download and install VPN software on your Mac and Windows computers, even if you are using Linux operating system, it will still be easy to set it up. Hide Me VPN has also created mobile phone apps for smartphones like Android and iPhone. The apps can be downloaded from Google Play and AppStore. Hide Me VPN apps are available in 16 different languages, which includes English, German, Dutch, Portuguese, Russian, French, Spanish , Indonesian and Arabic, Chinese, Croatian, Italian, Japanese, Persian, Portuguese (Brazil) and Turkish.
On Hide Me VPN website, you can find step by step instructions on how to download and set the VPN software up on your device.
HideMe VPN website is now available also in total of nice different languages including English, German, Dutch, Portuguese, Russian, French, Spanish, Indonesian and Arabic.
Also Hide Me VPN apps
Hide Me VPN Security Protocols
HideMe VPN supports all top security protocols for VPN softwares. You can connect to OpenVPN protocol, IKEv2, Cisco IPsec (IPsec IKEv1), L2TP/IPsec, PPTP and Softether. The most reliable is OpenVPN, it's very easy to set it up and it's especially great choice for desktop users. You will be impressed by its speed, stability, security and the overall experience.
Hide Me VPN Privacy Policy
Hide Me VPN has one of the most serious and strictest privacy policy from all the top VPN providers. VPN provider being based in a country where its government doesn't require companies to keep logs on its users online activity therefore Hide Me VPN simply doesn't do that.
Unblock Sites and Content with Hide Me VPN
Hide Me VPN hides your actual location and connect you to many servers across the world, allowing you to unblock all websites and content, including on-demand services like Netflix, Hulu, BBC iPlayer, TV Asahi, Vox, AT5, TV Lab, FOX, NBC,Facebook, Rara, MTV, Deezer, iTV PLayer, Eurosport, Vevo, USA Network, Global TV, Pandora, Spotify, HBO Go, YouTube videos, CWTV, TV Tokyo, Amazon Prime and Instant Video, Bravo, ProSieben, Sport1, Star TV, Xfinity, NHL, CBS, Demand 5, Arte, Sat.1, Film1, MLB, STV, UK TV, Much Music, City TV, Canal+, Pluzz, D17, 4OD, RTL and CBC.
File Sharing with Hide Me VPN
When connected to Hide Me VPN, you can use torrents to download and share files online.
Hide Me VPN Free Proxy

Hide Me VPN website offers also free proxy for its users, which provides you full security when browsing the internet. Hide Me free proxy allow you to access blocked websites. At work or in school where social media and other sites usually are blocked, you can unblock using Hide Me free proxy.
Hide Me VPN Customer Service
Hide Me VPN has 24/7 customer service and technical support in a form of chat on its website. It's a very useful feature and you can reach Hide Me staff any time of the day, or night.
Hide Me VPN Subscription Packages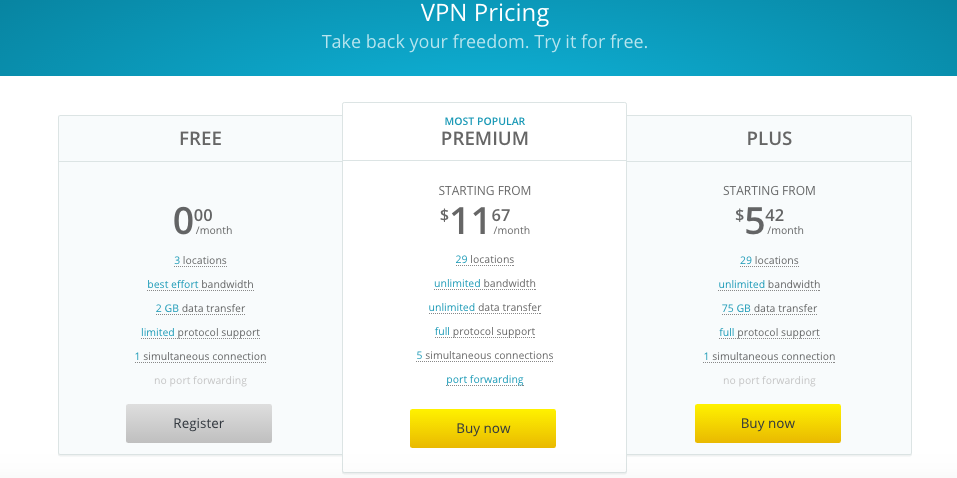 Hide Me VPN has a three subscription plans. The most popular is called Premium, which cost just over $11 per month and it offers unlimited bandwidth and data transfer, as well as access of all 29 server locations, full access of security protocols, use of 5 devices at a time and access to port forwarding. Port forwarding gives you access to SOCKS proxy, dynamic port forwarding (UPnP) and fixed IP addresses.
Another popular plan is called Plus, it cost only over $5 per month. In comparison to Premium account, Plus offers only 75GB data transfer and 1 simultaneous connection. Also, it has no port forwarding function, so no access to SOCKS proxy. Another great advantage that Hide Me VPN has, is that it offers also a free VPN subscription option. With Hide Me Free VPN you can connect to servers in 3 locations, it includes servers in Canada, the Netherlands and Singapore. Though it has limited bandwidth and only 2GB data transfer. FREE VPN can be used only on 1 device at a time and it doesn't offer port forwarding feature nor access to SOCKS proxy.
Both Premium and Plus accounts offer 14 days money back if the bandwidth use doesn't exceed 500MB.
Hide Me VPN advantages:
Free version
Free proxy on the website
Strictly no logs
Easy to use software and apps
Website and apps in many different languages
Hide Me VPN disadvantages:
14 days money with conditions on bandwidth
Conclusion – Hide Me VPN Review
Hide Me VPN is one of the best Asia's VPN providers, it offers greater speeds and fully anonymous internet surfing to all of its users. Using Hide Me VPN you will experience freedom of speech like never before, greatest privacy protection and access to all sites and content. With this VPN provider you can fully enjoy your gaming experience, access gambling and dating websites even in the countries like Saudi Arabia and UEA where it's usually blocked. You can also stream live events like Formula One, Premier League and French Open Grand Slam online from anywhere in the world.
Another very good and reliable VPN provider that provide similar experience include Total VPN with 39 servers, Incognito VPN with 30 servers, Safer Web VPN with 30 servers, StrongVPN with 458 servers and ExpressVPN with 250 servers across the world.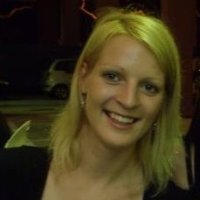 Author:
Inga
I'm a freelance writer living in Canada. Highly interested in topics on technology, online surveillance, and censorship. Love traveling and outdoor activities.