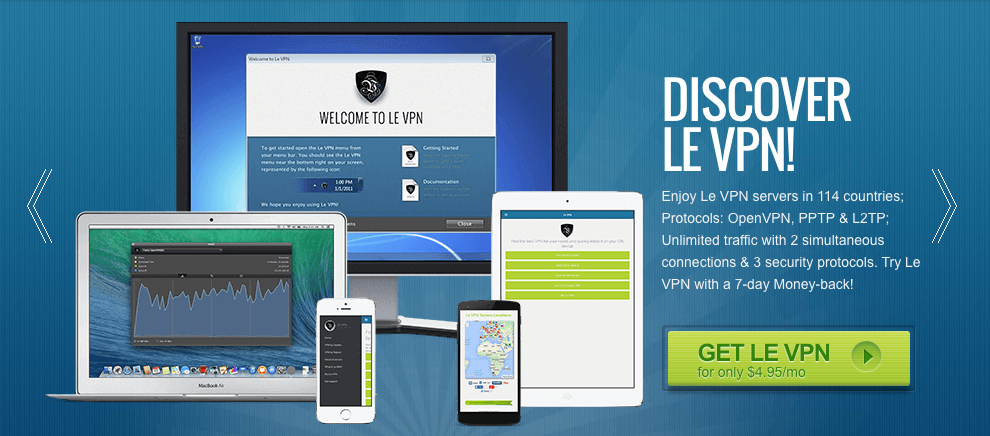 Le VPN Servers and Locations
Le VPN has a large network of VPN servers, their servers are located in the key regions across the world. 114 Le VPN servers will let you access blocked websites and stream sporting events from anywhere in the world.
Some of the Le VPN server locations include USA, Canada, Argentina, Brazil, Chile, Costa Rica, Cuba, Jamaica, Latvia, Austria, Czech Republic, Denmark, Germany, Italy, UK, Sweden, Egypt, Iran, Oman, Saudi Arabia, China, Indonesia, Japan, Singapore, Thailand, Vietnam, Australia, New Zealand and many others.
Le VPN Compatibility
Le VPN provides very fast, easy to use and simple to install VPN software for Windows, Mac, Linux and the operating systems. Le VPN has also mobile software which is compatible with most of the mobile devices. You can install Le VPN on your iOS and Android devices. Le VPN has a mobile app for iOS mobile devices too.
Le VPN Security Protocols
Le VPN supports several different security protocols. You can use OpenVPN, PPTP, L2TP over IPsec and HybridVPN.
Le VPN Privacy Policy
Le VPN has a very straight forward privacy policy, you can find it on its website. It says that Le VPN Service will store timestamps and IP addresses when a user connects and disconnects from the Le VPN service. Le VPN doesn't store any details or monitor websites that the user connects to when using the Le VPN service. The reason why LE VPN store this information is to monitor the performance of Le VPN site and service.
Le VPN Unblock Sites and Content
The Le VPN service includes also SmartDNS which allows you to unblock all of your favorite TV Channels including Netflix, Hulu, BBC iPlayer, NBC, CBS and others. It will also let you to switch between regions without any additional configurations or changes on your devices. Le VPN provides ultra fast internet speed on all of your devices including Smart TV which will allow you not only unblock websites but also watch live sports online. With Le VPN you can catch Olympic Games, French Open and Wimbledon, you can also watch beIN Sports outside of the Middle East and follow Formula 1 from anywhere in the world.
Le VPN File Sharing
The Le VPN service allows you to bypass censorship and keep your online activity safe. With Le VPN your P2p file sharing and torrenting is completely private and secure.
Le VPN Customer Support
LeVPN doesn't offer 24/7 live chat, but you on its website you can access its comprehensive knowledge base as well as you can submit a support ticket.
Le VPN Subscription Packages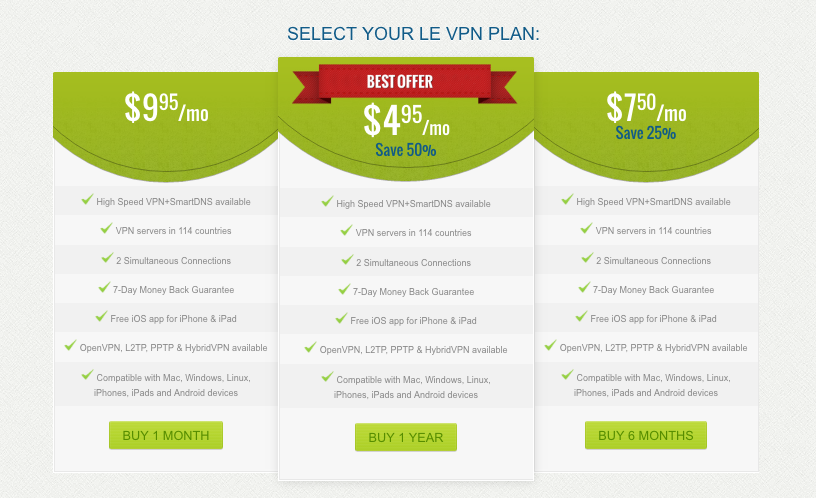 LeVPN offers three subscription plans. You can sign up for its one month, 6 months and 1 year plan. All of the Le VPN subscription plans let you to take advantage of its high speed VPN service plus SmartDNS, connection to VPN servers in more than 114 countries, 2 simultaneous connections with the same account and free VPN software and mobile apps.
Signing up for a 6 month plan you can save 25% of its monthly subscription fee, but if you go for 1 year you can save even 50% of the monthly subscription fee.
Le VPN advantages
Many server locations and connection types
Reliable and fast connection speed
Le VPN disadvantages
No live customer support
Only 7 days money back guarantee
Conclusion
LeVPN is one of the fastest VPN providers with servers in more than 114 countries around the world. It provides internet connection speeds that lets its users to stream live videos and unblock websites from anywhere. Using LeVPN it will also keep you fully secured when surfing the internet and even protect you on a public Wifi network.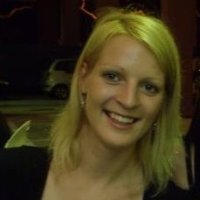 Author:
Inga
I'm a freelance writer living in Canada. Highly interested in topics on technology, online surveillance, and censorship. Love traveling and outdoor activities.