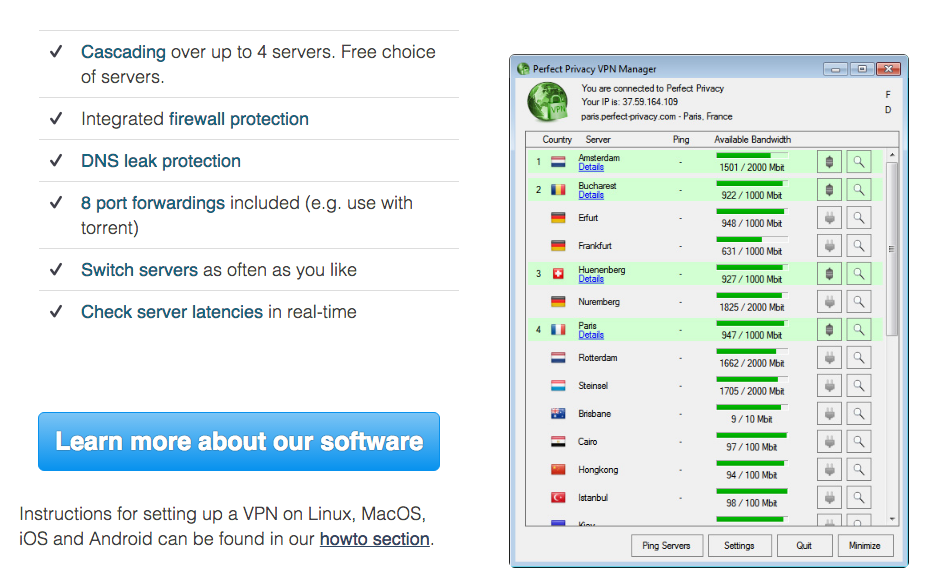 Servers and Locations
Perfect Privacy VPN has 40 servers in 23 countries across the globe. You will be able to connect with the following countries: Australia, Brazil, Canada, Czech Republic, Egypt, France, Germany, Hong Kong, Iceland, Israel, Japan, Latvia, Lithuania, Luxembourg, Netherlands, Norway, Panama, Romania, Russia, Singapore, Sweden, Switzerland, Turkey, Ukraine, United Kingdom, United States. Users can switch between servers without any limitations.
Compatibility
Perfect Privacy VPN can be used on all of your devices. It's compatible with your computer, notebook, tablet, smartphone as well as desktop at home. It's suitable for Windows and Mac operating systems. Users can access Perfect Privacy VPN also on their mobile devices, it's suitable for both iPhone and Android devices.
Security Protocols
Perfect Privacy VPN service providers allow you to use all industry known security protocols, you can choose between OpenVPN that offers AES 256 bit encryption, you can also choose to connect to SSH or IPSec, these protocols can be used with any device. Perfect Private VPN support also Squid and SOCKS5 proxies for every of its VPN servers.
Privacy Policy
Perfect Privacy has a strict privacy policy, it doesn't keep any logs nor user's activity surfing internet. Neither it keeps any logs of the user's IP address. However, they keep records of user's login details including username and the password.
Unblock Sites and Content
Perfect Privacy VPN is a perfect solution if you wish to unblock geo-restricted content as well as stream live events online. You can choose any of the Perfect Privacy servers, it will encrypt your internet traffic and change your IP address, allowing you to appear in the location of the server you are connected to. This allows you to unblock sites like Netflix US, Hulu, BBC iPlayer, Pandora, Spotify, also you can access any of the blocked sites in China, just connect to a server outside of China and you can unblock Facebook, all Google services, Instagram and all others that are blocked by the Chinese government. You can also stream sports online, some of the most popular sports that Perfect Privacy allows you to unblock is Wimbledon, Formula One, Olympic Games, Premier League and many others. If you wish to use one VPN connection for all your devices at home, you can get a VPN router and link all your devices, including your Smart TVs and gaming consoles to your VPN router.
File Sharing
Using Prefect Privacy VPN you can use Torrent softwares to download movies, music and TV-shows online. It allows P2P on most of its VPN servers, one of the servers, it's not allowed is in the USA.
Customer Service
Perfect Privacy customer service and technical support can be reached via email, forum and contact form on its website.
Subscription Packages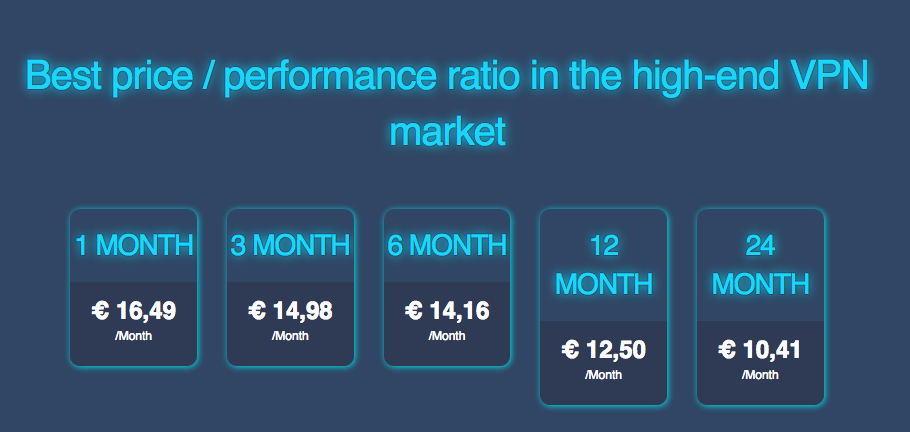 Perfect Privacy VPN has five different subscription plans, you can choose to sign up for 1 month, 3 month, 6 month, 12 month and 24 month packages. The price varies based on the subscription you choose from, the best is to sign up for 24 months as it will offer the cheapest rate per month, currently it's Euro 10,41 per month and it includes full functionality.
Perfect Privacy VPN advantages:
Provides TOR access on all its servers
Offer cascading of multiple VPN servers
Have Squid and SOCKS5 proxies on all servers
Perfect Privacy VPN disadvantages:
Pricy
No 24 hour customer support
Not many locations supported
Conclusion
Perfect Privacy VPN is a good VPN to protect your online privacy and security. You can not only keep yourself anonymous online, but also unblock sites and content. This is especially great if you travel or live in a country where there's high censorship level, these countries include Indonesia, Vietnam, China, UAE, Saudi Arabia and many other Middle Eastern countries.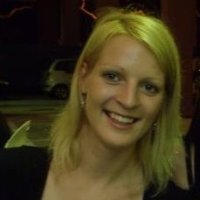 Author:
Inga
I'm a freelance writer living in Canada. Highly interested in topics on technology, online surveillance, and censorship. Love traveling and outdoor activities.