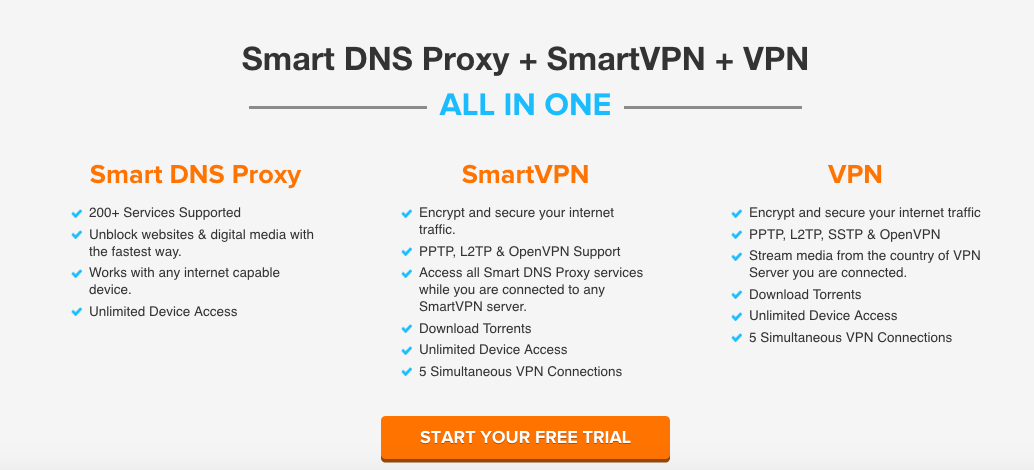 The main reason of SmartDNS Proxy is to allow its users to access any website and content, stream video and music that are Geo restricted.
How does SmartDNS Proxy work?
If you wish to use Smart DNS proxy all you have to do is to sign up for the service. After you can change your DNS settings on your devices or routers. Changing the settings will make sure that DNS requests are routed through your Smart DNS proxy servers when needed, hiding your real location.
Servers and Locations
Smart DNS Proxy has more than 400 servers across the world. It allows you to unblock the most popular websites and stream music and video services in more than 32 countries. SmartDNSproxy also has 4 DNS IPs.
Connections
Smart DNS Proxy allows you to have unlimited number of simultaneous connections from the same IP address. This means that if you wish to use Smart DNS Proxy in several locations, you will have to purchase another account.
Speed and Bandwidth
Smart DNS Proxy doesn't have any speed or bandwidth restrictions. You can take advantage of its unlimited bandwidth and connections speed. You won't experience and buffering and will be always connected to with the highest connection speed.
Device Compatibility 
SmartDNS Proxy works on Windows, Mac, iPad, Playstation and Xbox devices. All the tutorials can be found on http://www.smartdnsproxy.com/Setup
Privacy Policy
SmartDNS Proxy doesn't provide any security or protection when surfing the internet. You can find SmartDNS Proxy Privacy Policy and Terms on its websites, it is very clear about its operations and states what information is collected and for what reason. If any disputes, it would be solved in Canada as that's where their law firm is located.
Smart DNS Proxy Website
The website of Smart DNS Proxy is nicely designed and it's very user friendly. It is easy to find all necessary information and navigate around.
Unblock Sites and Content
With Smart DNS Proxy you can unblock any sites and services online. Here are some examples from Canada –  CWTV, beIN Sports Connect, The Loop, Sports Canada TV, SportsNet, Cricket Gateway, CBC. USA – Netflix, Pandora, Hulu, Spotify, ABC, Rdio, NBC, Turntable, A&E TV, CBS. UK –  Bloomberg TV, Viki, BBC Radio, BBC Sport, BBC iPlayer, 4oD, Sky Go, TVPlayer, EuroSports Player UK and many others.
Customer Support
SmartDNS Proxy has 24/7 live chat support and ticket service. Live chat is very fast and good, but it lacks technical support. For more technical issues we advise you to send an email instead.
Subscription Packages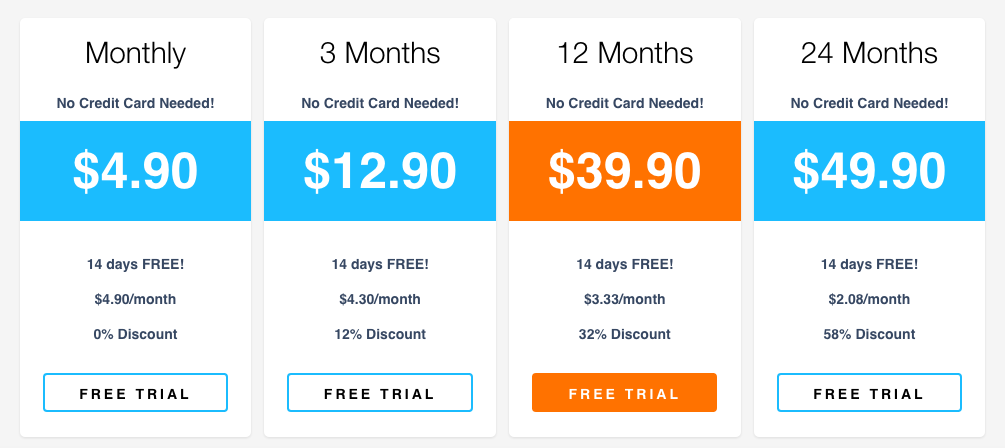 Smart DNS Proxy offers a several subscription plans. You can get 1 month, 3 month, 12 month and the most popular 24 months subscription plan with a discount of 58% and 14 days free trial. Also, all other plans offer 14 days free trial. You do not need to make payment for the first 14 days and it allows you to cancel the subscription anytime within two weeks. Smart DNS Proxy on top, has also 30 day money guarantee. 
SmartDNS Proxy accepts following payment methods: Master Card, Visa, American Express, Discover and PayPal.
Smart DNS Proxy Advantages
Easy to set up and use

Fast speeds

Great support

Unblock all sites
Smart DNS Proxy Disadvantages
No protection like VPN provide
Conclusion
SmartDNS Proxy is one of the best services to unblock and stream content and services online. It provides fast speeds and is compatible with many operating systems. You can use Smart DNS Proxy on several devices from one location. If you wish to use it at different locations you'll need to sign up for another account. Smart DNS Proxy offers you several subscription plans and let you have a free trial for 14 days. Only minus is that it doesn't offer online security and anonymity like VPN service does.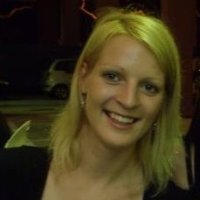 Author:
Inga
I'm a freelance writer living in Canada. Highly interested in topics on technology, online surveillance, and censorship. Love traveling and outdoor activities.