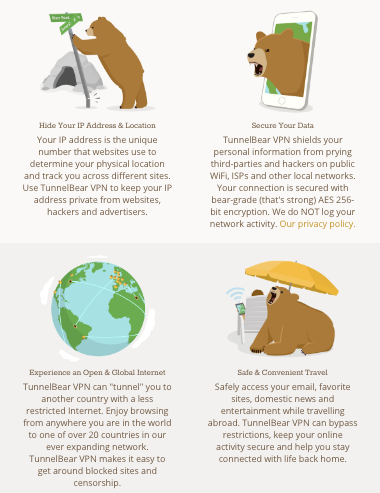 Servers and Location
TunnelBear has servers in more than 20 locations around the world, some of them include countries like USA, UK, Canada, Germany Spain, Switzerland, Italy, Japan and others.
Compatibility
It provides software for several platforms, like Windows and Mac, also mobile apps for Android and iOS.
Security Protocols
It also provide tunnel protocols like OpenVPN which is the most popular and secure from all the VPN protocols, but you can also use IPsec on your iOS device.
VPN Software
To get the software downloaded is fairly simple, just go to its dedicated page and the download will begin automatically. You can create an account once the software is downloaded and installed on your device. You will be requested to key in your name, email and password. The software is very easy to use, however to make it even more easy after the sign up you will be redirected to a landing page to view a tutorial on how the software works. All setup process takes only a few minutes.
Privacy Policy
According to the Logging Policy which can be found on TunnelBear website, it does not log any of your data about the sites you visit and applications you use while you are connected to one of the TunnelBear servers. However, it will store following information: your name, email, twitter id, expiry date, version of the operating system used, app version, Tunnel bear activity. It will also store additional operation data and financial information which includes cardholder name, date of the payment and last four digits of the credit card.
File Sharing
TunnelBear isn't one of the fastest VPN providers. However, as TunnelBear doesn't allow P2P traffic then the VPN speed should be enough for just a regular and secured internet browsing as well as video streaming.
Reliability
This isn't the most reliable VPN provider, during the testing we were unable to establish connection to a Japan server for quite sometime and there were slight issues also with server in Italy. Having said that, Tunnel Bear VPN software provides DNS leak protection, it can be set up by Google's public DNS on every internet network interface.
Customer Service
Although currently TunnelBear doesn't offer a 24/7 live chat, it does have a dedicated and very detailed FAQ page with well described solutions for most of the issues that may occur. It also has an active Facebook page and Twitter account, it's very likely you will be able to get your answers there if you do not wish to fill in the contact form on TunnelBear website.
Subscription Packages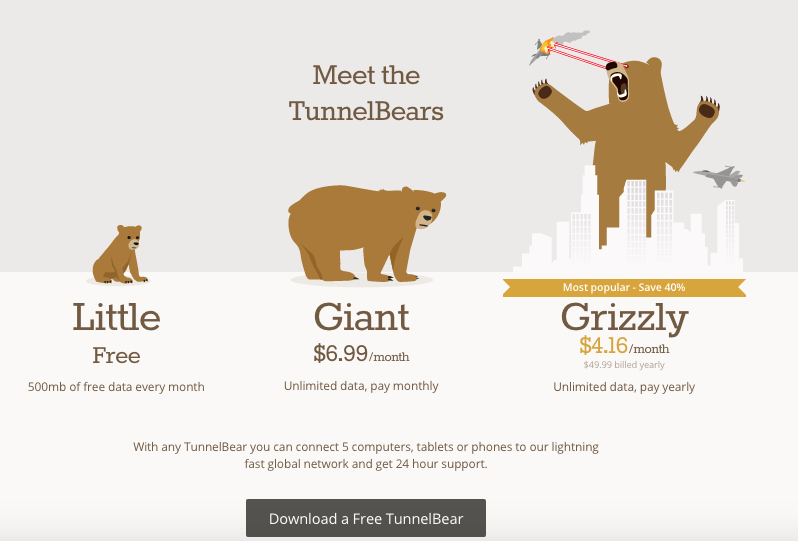 TunnelBear offer three different subscription packages. The most attractive one is free for up to 500mb of data every month, also their paid subscription packages are very reasonably priced. Most popular is called Grizzly, it cost only $4.16 per month if signed up for one year, it offers unlimited data. Giant package is also very popular, it cost only $6.99 per month. The payment methods include traditional Visa, MasterCard, American Express, PayPal as well as Bitcoin, however it's accepted only for your Grizzly account subscriptions.
Unblock Sites and Content
TunnelBear is great for unblocking websites does to geographical and IP blocks. It allows you to unblock some of the most popular on-demand streaming services like BBC iPlayer, Rara, MTV, Deezer, Netflix, iTV PLayer, Eurosport, Vevo, USA Network, Global TV, Pandora, Spotify, HBO Go, CWTV, TV Tokyo, Amazon Prime, Bravo, ProSieben, Sport1, Star TV, Xfinity, NHL, CBS, Demand 5, Arte, Sat.1, Film1, MLB, STV, Hulu, UK TV, Much Music, City TV, Canal+, Pluzz, D17, TV Asahi, Vox, AT5, TV Lab, FOX, NBC, 4OD, RTL and CBC from anywhere in the world.
TunnelBear VPN advantages
easy to use VPN software available on all most popular platforms
interesting and friendly marketing approach
feature that allows to track and block ads
servers in most of the major countries in the world
free VPN account
TunnelBear VPN disadvantages
P2P file sharing isn't allowed
VPN connection speed is slow
only two tunnel protocols are offered
a lot of personal information including payment details can be stored
Bitcoin payment method only accepted for yearly subscription
Conclusion
TunnelBear VPN is a great tool for internet users who are looking for an easy to use VPN software. It doesn't require a lot of technical knowledge from their users. Tunnel Bear is the best VPN for people that doesn't require VPN for every day use as it offers a free version till up to 500mb of free data every month. Its other packages which provide you with unlimited data is also very affordable to anyone. You can use TunnelBear on 5 different devices simultaneously. As they do not allow P2P file sharing then it's s connection speed shouldn't make you too affected as you can still surf internet without any problems.
TenBestVPNs.com recommend TunnelBear to anyone who's looking for a simple tool to protect their internet identity and keep anonymous when connecting to any internet network.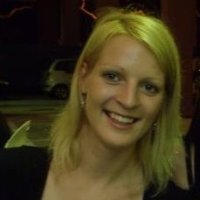 Author:
Inga
I'm a freelance writer living in Canada. Highly interested in topics on technology, online surveillance, and censorship. Love traveling and outdoor activities.