Servers and Locations
VPN Shazam currently has more than 400 servers in more than 60 countries around the world. It offers over 46,000 IP addresses around the world. You can connect to Shazam VPN servers in all major VPN markets like UK, US, Canada and Australia. It also has many servers in other EU countries and in Asia.
With VPN Shazam you can enjoy a complete freedom to switch servers whenever you decide.
Shazam VPN Compatibility
VPN Shazam is compatible with all the major operating systems and it works with all computers and mobile devices. VPNShazam software is easy to download, install and use. You can find all instructional guides on the VPN Shazam website.
VPNShazam provider also offers up to 5 simultaneous connections, depending on your selected plan. This means that you can use your VPN Shazam on several devices at the same time.
Unblock Blocked Sites and Content
VPN Shazam provides you with many server locations, highest level of speed and security it is one of the best VPN providers to unblock blocked sites and content from around the world.
VPNShazam allows you to unblock all censored websites and bypass your ISP as well as government restricted sites and content. With Shazam VPN you can also unblock geographically blocked websites and services.
In addition, with VPN Shazam you can easily get an access and unblock Netflix from the US, Hulu, BBC iPlayer and many other on demand video streaming services and news across the globe. VPNShazam also lets you to stream live sports like NBA, Premier League and Formula 1 from anywhere in the world.
With Shazam VPN you can virtually be almost anywhere in the world, which provides you to access to sites and services that otherwise wouldn't be available. Even blocked VoIP services, Messengers and Chat Apps like Skype, WhatsApp, Viber, WeChat can be unblocked with VPN Shazam.
File Sharing and Torrents
VPN Shazam allows file sharing and torrent download on the following server locations: Brunei, Sweden, Turkey, Romania, Netherlands, Luxembourg, Germany and Russia. Not all VPNShazam subscription plans allow P2P. Choose Dynamic Smart VPN to access all above mentioned server locations or sign up with Static Smart VPN to use P2P on Romanian VPN server.
Customer Support
Although VPNShazam doesn't have a 24/7 live customer support over a live chat, it provides a detailed knowledge base and blog on its website as well as it can be reached through an email and ticket support.
VPN Shazam Price
You can choose from four different pricing plans which offer different features. All plans can be signed up for a period of one month, 3 months, 6 months and one year. New VPN Shazam customers can also enjoy one hour free VPN trial.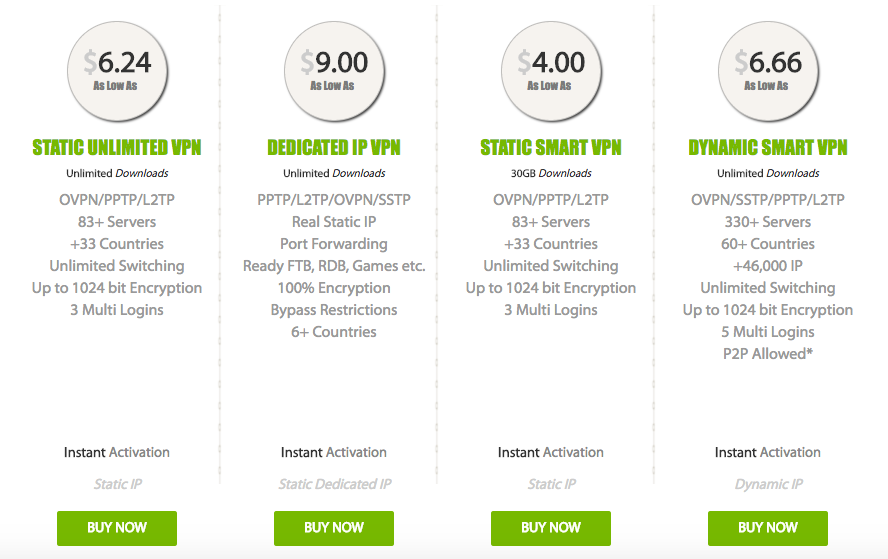 Static Unlimited VPN
The Static VPN plan is a plan with a static IP address, this means that your IP address will be shared between you and other users. Your IP always will be the same whenever you connect to the same VPN server.
This VPN plan comes with unlimited Data Transfer, it allows its users to switch between 80 servers in around 30 countries around the world. P2P is allowed only on its Romanian VPN server. Static Unlimited VPN supports OVPN, PPTP and L2TO protocols and provides 1024 bit encryption. You can also use it on 3 devices simultaneously. Price starts as low as $6.24.
Static Smart VPN
Static Smart features are the same as Static Unlimited, the only main difference is that it only allows 30GB Data Transfer, which may not be enough for the regular internet users and anyone who likes to download music, movies and other files through torrents as it only allows P2P on its Romanian VPN Server. Price starts as low as $4.00.
Dynamic Smart VPN
This is the most advanced Shazam VPN plan as it provides its users with a new IP address any time when they login or connect to the same server location. This is a perfect plan for users that require a strong online security and anonymity.
It also provides Unlimited Data Transfer and more server locations and IP addresses than Static VPN plans. It offers more than 60 server locations and allow P2P on its Brunei, Turkey, Romania, Sweden, Luxembourg, Netherlands, Germany and Russia servers. This plan supports OVPN, SSTP, PPTP and L2TP security protocols providing 1024 bit encryption. It also allows up to five multi logins from the same account. Price starts as low as $6.66.
Dedicated IP VPN
This VPN plan lets you to have your own dedicated public IP address (it is not shared) on one of the server which you have chosen. You cannot change the server after you have selected the initial one. Your IP address remains dedicated only to you from the moment you purchase the account until you close it.
You can choose from the following server locations: USA, UK, Sweden, Netherlands, Czech Republic and Slovakia. It allows unlimited data downloads, supports PPTP, L2TP, OVPN and SSTP security protocols with 100% encryption.  It is also FTB, RDB and games ready plus it supports port forwarding. Price starts as low as $9.00.
Free VPN Trial
VPN Shazam also offers a free VPN trial with Static VPN plan features. You can go to the Shazam VPN website to fill in a free VPN request form. After you will receive an email which will allow you one hour free VPN trial.
Conclusion
VPN Shazam is a world class VPN provider that offers several VPN plans based on your needs. It's great that you can choose between its static, dynamic and dedicated IP plans. Not many VPN providers offer IP features like these. Another great option that Shazam VPN offer is to choose between limited and unlimited data transfer subscription for its Static IP plans. VPN Shazam provides great features that allows to keep your online identity private and stay anonymous online, it also lets you to unblock blocked sites and stream video and live sports from anywhere in the world. If you are into downloading torrents then Dynamic Smart VPN plan will work the best for you.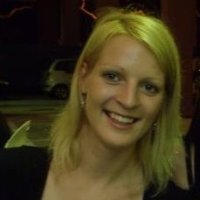 Author:
Inga
I'm a freelance writer living in Canada. Highly interested in topics on technology, online surveillance, and censorship. Love traveling and outdoor activities.