Listen to our audio guide on how to unblock Google in less than 5 minutes
Using a VPN is very easy, and it allows a fast and straightforward way to unblock Google services from anywhere around the world.
Unblock Google with a VPN service
Below is easy steps to access Google in countries where it is restricted.
Step 1: Sign up for a VPN. Our most recommended VPN providers to unblock sites are ExpressVPN and NordVPN. The full list of the best VPNs to unblock sites, you can find here.
Step 2: Download and install VPN software. Most VPN providers offer VPN software for all operating systems, including Windows, Linux, OS, iOS, and Android.
Step 3: Connect to a VPN server. To unblock Google, login to a server in the location where Google services are available.
Step 4: Access Google services. Now you can access Google Search, Google Maps, Google Play, Google Scholar, Google Photos, Google Drive and Gmail from any part of the world.
Why Countries Block Google?
There are many censored countries around the world. Typically, they restrict its users from accessing and spreading certain information online.
However, Google supports the Internet free from censorship. Therefore, many governments, especially, within Asia and the Middle East have blocked Google service access. By doing so, these governments can control information. This is especially prevalent in times of political and social unrest.
Furthermore, Google keeps a Google Transparency Report, which indicated any disruptions of traffic to its services. The disturbances are joint to government imposed internet blocks or due to network outages.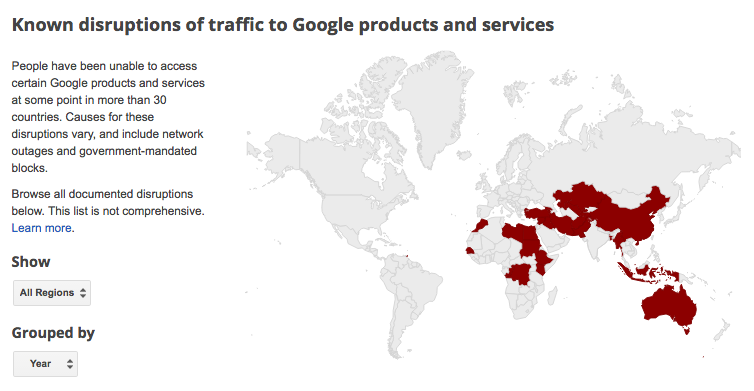 In 2010, Google decided to end censorship in China by declining to continue to censor search results on Google's Chinese service. As a result, it completed by Chinese government blocking all Google services and upsetting millions of Chinese internet users.
Since then, Google has stood firmly and expressed the need for the universal right to freedom of speech and opinion. According to the UN, Universal Declaration of Human Rights document, Article 19,
"Everyone has the right to freedom of opinion and expression; this right includes freedom to hold opinions without interference and to seek, receive and impart information and ideas through any media and regardless of frontiers."
In conclusion, Google has seriously paid for sticking to its beliefs.
How does a VPN unblock Google and other sites
VPN, in other words, is Virtual Private Network. A VPN software runs your data through an encrypted tunnel which allows you to secure your data and private information. In addition, it lets you circumvent all government censorship, online restrictions, filters, and firewalls.
If you are in a country where Google is unavailable, then by connecting to an external VPN server you will unblock Google. In addition, it will allow you to access the Internet privately, securely and anonymously.
With a VPN you can Google anything you can imagine.
What is the best way to unblock sites like Google
You may have heard of another service which can let you access Google and unblock sites from anywhere. It is Proxy service. It is true that just like a VPN, also Proxy lets you unblock sites and allow you to access Google. However, Proxy service is a lot less secure than a VPN. VPN is a much better option when it comes to protecting your personal data and information.
VPN service uses a secure tunnel that is formed between you and the Internet. It is protected with a strong 256-bit encryption. This allows you to connect to public Wi-Fi without putting your information at risk and being tracked and monitored, not only by governments, ISPs, and corporations but also by internet hackers.
By using a VPN, no one can see what are your online activities. It provides strong encryption, and that's all snoopers can see. They cannot see what websites you are browsing or what apps you're using. Furthermore, no one can see and access your online communication. A VPN allows you to protect your online privacy.
VPN is the best technology to defeat surveillance, secure your data online and unblock sites from any place in the world.
Conclusion
Although many governments block Google, you can use a VPN to unblock sites from anywhere. With a speedy and reliable VPN service, you can unblock Google and bypass censorship even in the strictest countries in the world.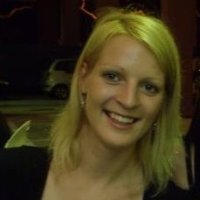 Author:
Inga
I'm a freelance writer living in Canada. Highly interested in topics on technology, online surveillance, and censorship. Love traveling and outdoor activities.