Listen to our audio guide on how to access Omegle with a VPN
What is Omegle?
The Omegle online chat was launched in 2009 by 18 years old Leif K-Brooks. The popularity of the chat service grew very fast, and in less than one month since the launch, it had reached around 150,000 page views per day. Very soon after the launch site also introduced a video conferencing feature. The chat popularity grew due to its way of randomly pairing users for an anonymous one-on-one chat session. Furthermore, it allowed video conferencing with nudity and sexual content. As many entities and governments find this type of material harmful, then they have implemented filters and bans.
In 2013, Omegle implemented "monitored video chat" that would protect young people under the age of 18 from coming across to harmful content like nudity and sexuality.
Due to the harmful content, Omegle is most often blocked in countries like the United Kingdom, Indonesia, Australia, United States, Turkey, Pakistan, Canada, Germany, Netherlands and many others.
Also many schools and workplaces around the world block Omegle.
Therefore, if you are experiencing Omegle.com ban, then you should know that there's an easy way to unlock it.
Omegle Unmoderated Section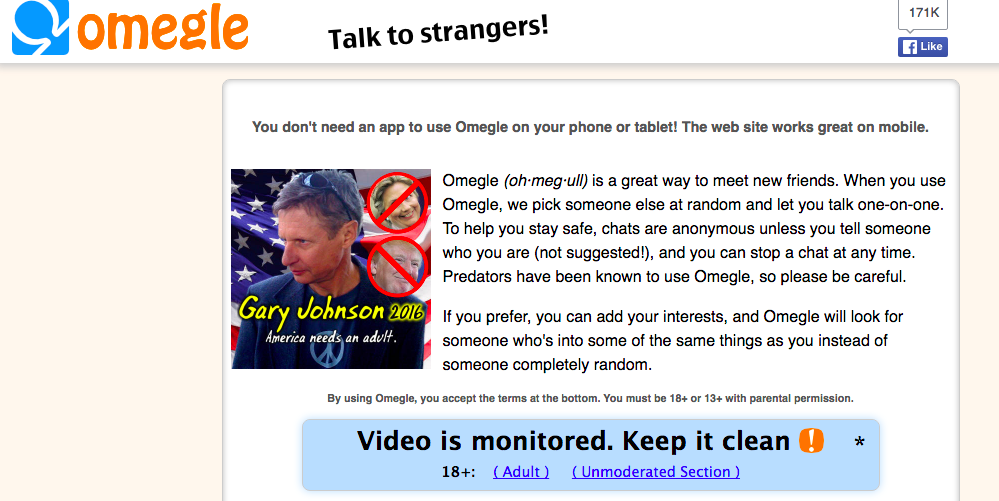 Omegle monitors its user's behavior. Also, it blocks people from using their service for infringement of its terms and conditions. However, if you are interested in sexual content and you are above 18 years old, then you may enter into "Unmoderated Section." It gives you full access instead of getting blocked using the regular chat.
When entering the "Unmoderated Section," it will show you the following message:
Because this section is not moderated, you are more likely to encounter sexual behavior. As with the rest of Omegle, users in this section are solely responsible for their own behavior.

IF YOU ARE UNDER 18, or you would prefer not to use this section, press CANCEL. By pressing OK, you affirm that you are at least 18 years old.
Access Omegle Video with a VPN
The most efficient and robust way to bypass censorship and access sites is using a VPN service. Most of the VPNs requires its users to start with a download and install of its VPN software. Therefore it might take some effort and a bit of initial work to set it up. However, if you intend to use Omegle video chat often and frequently come across blocked sites that you wish you had access for, then VPN is a great tool to get.
VPN service also gets Omegle unblocked at school, work and other public spaces.
What is a VPN?
A VPN is a Virtual Private Network; it allows its users to hide IP address by connecting to a virtual server in another location. Also, it provides you with a new IP address. For example, if you are living in the USA and have a US IP address, then by connecting to a VPN server in the UK, VPN will automatically provide you with a UK IP.
Not only it hides and changes your IP address but also encrypts your data. Encryption is allowing you secure and anonymous internet access.
VPNs are meant for online security and privacy purposes and not actually to bypass internet blocks. However, there are some circumstances when VPN is the best way to unblock sites and online content that are unavailable in different locations.
How to get Omegle unblocked with a VPN?
Here's a detailed step by step guide on how to access Omegle.com anywhere in the world:
Step 1: Get a VPN service subscription. Some of the best VPNs include Express VPN, Hotspot Shield, and Ivacy. However, you can also visit our VPN comparison page to find out which would be the most suitable VPN for your needs.
Step 2: Download, install and set up the VPN service.
Step 3: Log in and look at the VPN server location list.
Step 4: Connect to any of the server location. If you are in a country where Omegle is banned, you should connect to a VPN server in another country where Omegle is available.
Step5: Go to Omegle.com and enjoy Omegle unblocked.
With a VPN service, you can enjoy Omegle unblocked at school, office and other public areas. Furthermore, you can access Omegle in UAE, Saudi Arabia, and other highly censored countries.
Conclusion
If you are into meeting new people online, then Omegle is the best online video chat for you. Unfortunately, some countries tend to block Omegle due to its content that can involve nudity and sexuality. Even Omegle itself wants to protect their users from unfortunate experiences. Therefore, it has created monitored chat section, and if anyone trespasses its terms and conditions, that user gets banned from Omegle.
If you come across to the ban, then you can use a VPN to unblock Omegle.com and enjoy Omegle unblocked at school, workplace, and other public spaces anywhere in the world. VPN changes your IP address and encrypts your traffic, allowing you to access the internet anonymously and unlock sites and services around the world.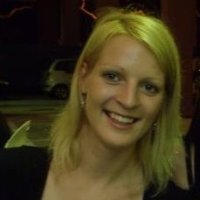 Author:
Inga
I'm a freelance writer living in Canada. Highly interested in topics on technology, online surveillance, and censorship. Love traveling and outdoor activities.