How to Protect Your Internet Privacy from Donald Trump and NSA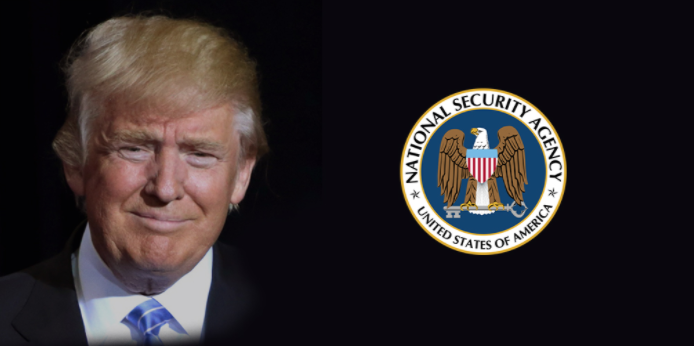 In January 2017, Donald Trump, at the age of 70 became a President of the United States of America. Along with the President title, he gained another imperative authority. Now, Trump, is the person that leads the most technologically advanced surveillance infrastructure in the world is reporting to.
Donald Trump and Surveillance
Surprising election victory has turned into a reality. It has alarmed people around the world. How will Trump's presidency impact their lives? One of the biggest fears that internet users have is related to their internet privacy. Is Donald Trump going to expand surveillance programs and government access to private information?
Both of the previous Presidents of the USA supported local surveillance. But knowing where Trump stands at, there are sound concerns that the new administration not only will support but also strengthen surveillance authority.
However, it's still too early to answer what exactly new leader's plans are. How will Trump manage his policies in many other areas? But it is already sure that encrypting your data and using other tools is the best way to stay secure and protect your internet privacy from Donald Trump and NSA surveillance.
If you feel like you want to protect your online data not only from the Trump himself and surveillance agencies but also from internet hackers and prying corporation, then below are the best ways you can do it.
Basic Security Measures For Internet Privacy From Donald Trump
When we are looking at tools that can protect your internet privacy, there are many things to consider. Some of the most important things that you should take care of are protecting your messaging tools, phone calls, email, the cloud, browser, and note-taking applications. However, before we cover all of that, are some of the most basic security measures to take when trying to secure your phone, computer, and accounts.
Add A Passcode On Your Phone
Just like you wouldn't leave your car unlocked on the street, you shouldn't leave your phone unlocked. The most necessary feature for most of the smartphones is to add a numeric code to it.
Tips: Don't use an easy to guess code like "1234", "4321" or "0000". To add extra security, choose a mix of numbers and letters for your passcode. Furthermore, you may want to reconsider using your Touch ID, Pixel Imprint, and another simple unlocks features that can compromise your security.
Here's how you can change your passcode on iOS and Android devices:
iOS Passcode Settings
Unlock your device, open Settings > click on Touch ID & Passcode > select Change Passcode > then tap on Passcode Options > finally click on Custom Alphanumeric Code.
Android Passcode Settings
Unlock your Android device, open Settings > click on Personal, then select Security > tap on Screen lock > and finally select PIN or Password.
You can also add a login password to your computer. Furthermore, you can also encrypt your computer's hard drive with these easy steps:
Add Login Password and Encrypt Hard Drive On Mac
To add a password to your Mac computer, go to System Preferences > select Security & Privacy > and click to Require a password.
You can also encrypt your computer by moving to the FileVault tab and enable the encryption. Make sure you remember your FileVault recovery key!
Here's a video tutorial on FileVault and how to use it.
Encrypt Hard Drive On Your PC
It's relatively easy to add encryption to your PC's hard drive. Follow the step by step instructions below:
Start your PC, open Start > type in encryption and select Change device encryption settings > click on Manage BitLocker > then select to Turn on BitLocker.
Tips: Unless you are very concerned about your security, do not encrypt your computer's hard drive. First of all, it consumes a lot of space on your device. Therefore, you will have less space for other things on your device. And secondly, if you ever forget your admin password, you will be in real trouble as you won't be able to retrieve your files.
Turn On Remotely Ring, Lock, Or Erase For Your Device
If you ever lose your device, you can use remotely ring, lock and erase feature. Here's how you can enable it on your devices:
On Mac and iOS devices, go to Apple websites to set up Find My iPhone and Mac. To erase everything from your Apple device remotely, go to iCloud.com/find.
On Android devices, find my phone enables automatically right after connection to your Google account. Visiting android.com/devicemanager you can easily find your device and wipe all your data by performing a factory reset task.
For Windows devices, visit https://account.microsoft.com/devices to manage your devices. In this site is where you can add your device, locate your device and erase your phone remotely.
Add 2-Factor Authentication (2FA)
For extra security and internet security from Donald Trump, NSA, and even online hackers, add two-factor authentication to your accounts. 2FA requires you to add a short verification code that you receive to your mobile phone. 2FA is an additional protection on top of your traditional password.
Here's a list of all the websites and services that support Two-Factor Authentication.
Tips: After adding the 2FA for your account, you may want to contact your telecom provider to find out how you can add an additional layer of security to your mobile carrier.
Advanced Security Measures For Internet Privacy From Donald Trump
Encryption is one of the most often used word in regards to internet privacy after Donald Trump became a President of the United States. Encryption means that your communication through a messaging app you use is secured and encrypted. For anyone outside of your communicator circle, the message you send to will look jibberish. Even your internet provider and data carriers won't be able to intercept the message due to a sophisticated algorithm that ensures that the message can be read only by you and the receiver.
In this section, I will talk about the best apps to use for secure messaging, encrypted phone calls, Chrome browser extensions to secure your email, and much more.
Encrypted Messaging Apps
Online messaging apps have become one of the most used ways of communication. But it's also one of the easiest ways for surveillance agencies to control our actions online. To avoid internet surveillance and protect your internet identity from Donald Trump and NSA, use these end-to-end encrypted messaging apps:
Signal
The Signal messaging app is the best-known tool for anyone seriously concerned about their internet privacy. It provides full end-to-end encryption for both its messaging and voice call services.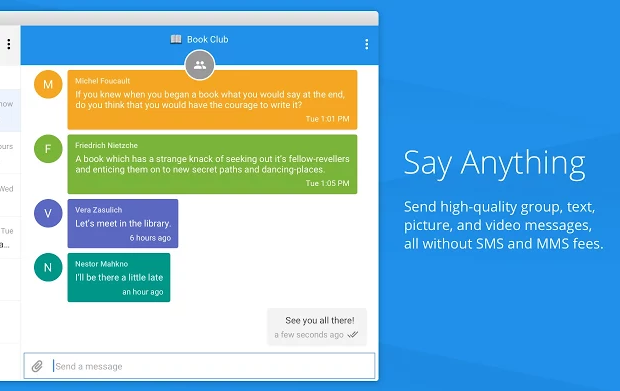 The Signal is a free app for both iOS and Android device users. It allows singing text messages, creates groups, makes phone calls, share attachments, and media. Signal also allows sending messages using a Google Chrome browser plugin for desktop users.
The Signal is Edward Snowden endorsed mobile app for fully secure messaging. After Donald Trump had become a President, Signal's downloads increase was 400%.
Wickr Me
Wickr Me is less known messaging app. Just like Signal, also Wickr Me provides end-to-end encryption and offer similar features. However, Wickr Me doesn't require your phone number to use for a sign-up, this can be advantageous over the Signal app. Furthermore, Wickr Me app also has a "Secure Shredder" feature that allows you to quickly erase any attachments, text messages and any other data in case someone tries to recover anything.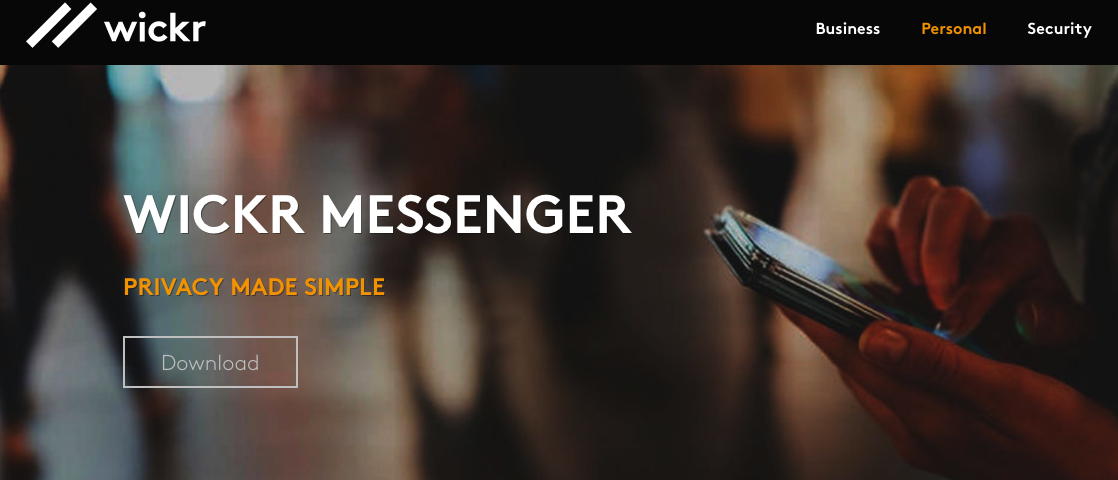 Wickr Me is available for a free download for both iOS and Android users.
WhatsApp
WhatsApp is probably the most used messaging app around the world. It has over 1 billion users, and it provides rich features like individual text messages, group messaging, phone and video calls. However, it has been very slow with rolling out end-to-end encryption. Only in 2016, it announced that all of its features are providing full end-to-end encryption.
To enable end-to-end encryption notifications on WhatsApp, open the WhatsApp app > tap on Settings > Account > Security > and turn on Show Security Notifications.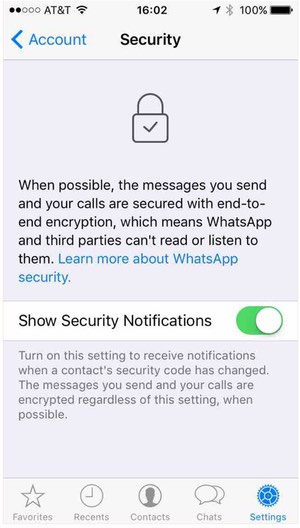 Encrypted Phone Calls
All of the previously mentioned messaging apps also allow encrypted phone calls. However, if you don't use Signal, Wickr Me or WhatsApp then the best would be to call through Ostel. It is the easiest and cheapest way to make encrypted phone calls. Ostel allows you to call for free worldwide and it works on every device. Also, it provides award-winning security.

Ostel is the best tool to secure your phone calls and internet privacy from Donald Trump and NSA.
Encrypted Email
Although Gmail claims that the communication is encrypted, clearly it isn't safe enough. Gmail identifies and sorts emails by categories like Primary, Social, and Promotions. It also shows you personalized ads based on your email promotions.
To simple secure your email and add an encryption, you can use Google Chrome extension Crypt. It's easy to set up and has some more advanced features for very savvy people.
If you want to take your email security to even higher level, then you will have to learn more about "Pretty Good Privacy" or "PGP" encryption.  You can start with the installation of the Mailvelope extension for Google Chrome and Firefox browsers. It works on the primary emails like Gmail, Yahoo! Mail, GMX, and even Outlook.com. Once the download and installation are over, click on the extension icon and select Options. Then follow the instructions to Generate Key and send secret messages.
Encrypted Internet Browser
To protect your Internet privacy when browsing the internet, "incognito mode" or "private browsing" isn't the way to go. All it does is preventing your web browser from saving cookies and web pages, to find out more click here. Some browsers like Google Chrome also warns its users that going incognito you aren't invisible and it doesn't hide your browsing activities from your employer and internet service provider.
For full browser encryption, try out the HTTPS Everywhere extension that works on Chrome and Firefox. It's a good place to start to fully secure your browsing and provide full internet privacy from Donald Trump and NSA. HTTPS Everywhere forces all unencrypted searches to load with HTTPS which is a protocol to provide a secure communication on the internet.
You can also try DuckDuckGo search engine; it works just like Google search. However, it doesn't track you, and it provides end-to-end anonymous and encrypted searching.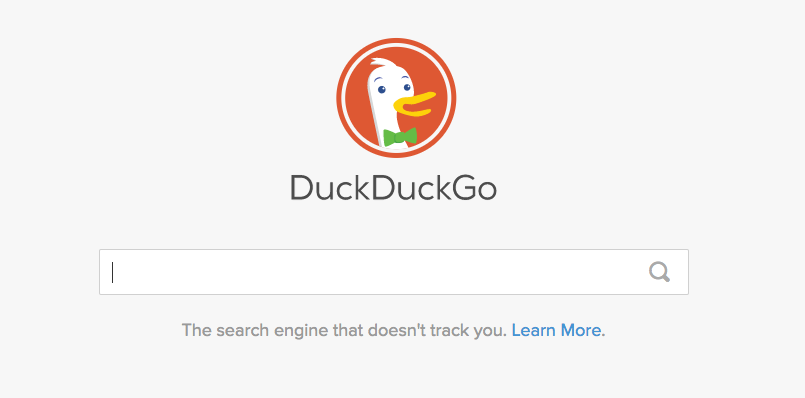 For extra security and private browsing, get rid of your commercial internet browsers like Chrome and Firefox and use Tor instead. Tor is secure internet browser that uses private search by default. Furthermore, Tor works similar to a VPN service; it uses virtual tunnels to protect your web surfing activities from your internet service providers.
Conclusion
World's most advanced surveillance agency NSA and the United States of America has a new leader. Unfortunately, it isn't excellent news for internet users as there is a potential threat that Donald Trump will strengthen domestic surveillance. Therefore, there are extra reasons to take all the precautions and secure your internet browsing. In this article, we have shared some of the best end-to-end encrypted messaging apps, phone call, and services, as well as web browser protections to protect your internet privacy from Donald Trump and NSA.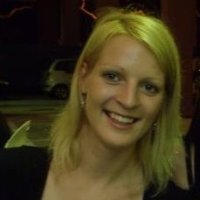 Author:
Inga
I'm a freelance writer living in Canada. Highly interested in topics on technology, online surveillance, and censorship. Love traveling and outdoor activities.