Why watch iPlayer abroad?
Most of the people who leave the UK still want to access and watch BBC iPlayer. It offers many interesting TV shows and other entertainment that other countries don't. Using the iPlayer, users can also watch BBC UK. It broadcast news and latest happenings in the UK and around the world.
However, accessing BBC iPlayer from other countries is not possible due to the UK's TV licensing regulations. For example, when I want to watch iPlayer abroad, this is the message that shows up when trying to access it.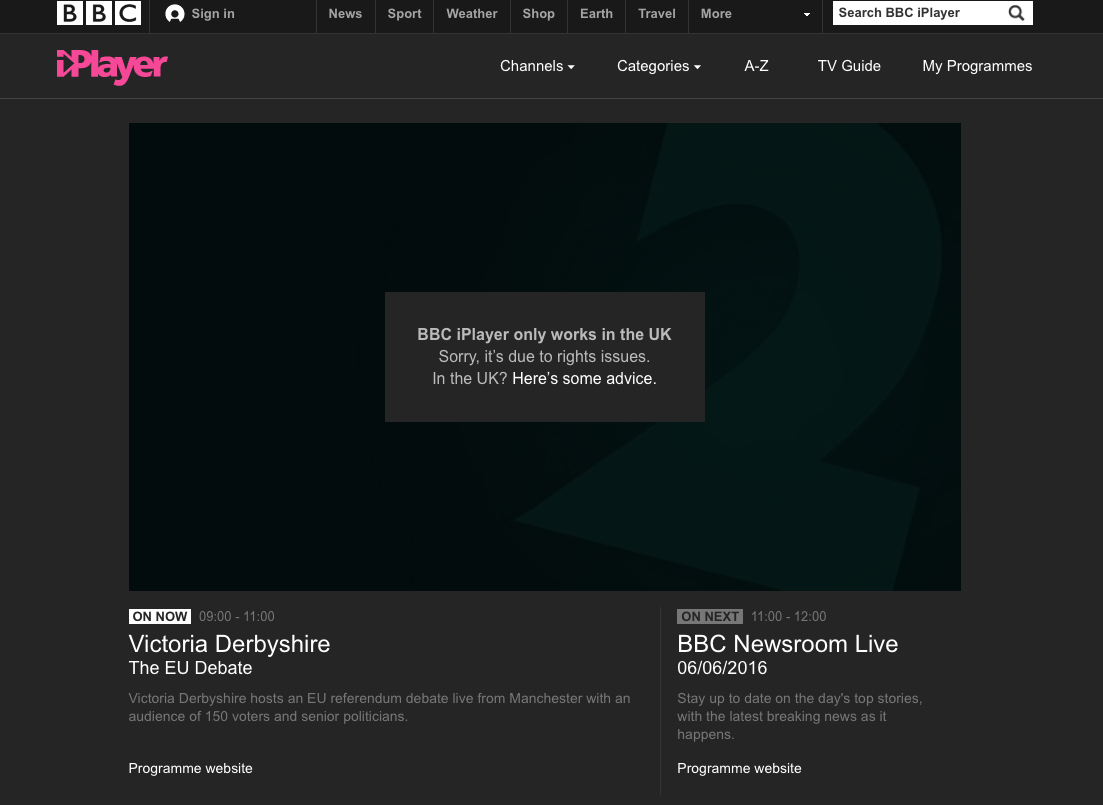 What is a VPN?
A VPN is a software and a method to unblock websites and content online. It also provides extra privacy and anonymity to the users when surfing the internet.
Other reasons why people use VPN is to unblock games and improve their gaming experience. Furthermore, VPN hides user identity when downloading files using torrents and secures connection on a public internet or a hotspot. It also lets users to avoid third-party web tracking and to test marketing and SEO in other regions.
Some users use VPN also to book cheaper flights and hotels, which may vary based on your location.
How can a VPN unblock BBC iPlayer abroad?
VPN is the best choice if you wish to unblock geo-restricted sites and on-demand services like BBC iPlayer, Hulu, and even Netflix.
VPN software allows you to connect to a server in the UK. It hides your original IP address and changes it to one registered in the UK. Therefore, when accessing BBC iPlayer, it will read your UK IP address and think that you are residing in the UK allowing you to access your favorite shows and unblock BBC iPlayer abroad.
How to set up VPN and watch iPlayer abroad
Getting a VPN subscription is easy. There are plenty of VPNs out there. However, not all the VPNs are equally good. There are a few VPN providers that offer a free VPN service. However, we don't recommend signing up with any other provider that offers a free VPN service. Signing up with a VPN that is free can cause more trouble than help you.
To find out why we don't recommend signing up with a free VPN, please read our article: Should I use a free VPN service? If you still prefer getting a free VPN, then we highly recommend TunnelBear VPN. It is the best free VPN service available. However, its free version offers limited features.
Our most recommended VPN providers include ExpressVPN, Ivacy VPN, NordVPN, and Hide My Ass.
For the full list of VPN providers that will allow you to stream and watch BBC iPlayer abroad from any part of the world, please refer to our page about the best VPN services for the United Kingdom.
Once you sign up with a VPN provider, you will be required to download VPN software. Most of the best VPN providers have software for all the main devices. You can get a VPN for your computer and mobile.
If you are using Windows, Linux and Mac laptop or desktop all our previously mentioned VPNs will provide you with an easy to install and setup software for each platform. You can also download mobile apps for your smartphones, most of the best VPN providers have built apps for Android phones and tablets as well as iPhone, iPad and other iOS devices.
After you have downloaded and set up, you can log in and connect to a server in the UK. UK server allows you to unblock BBC iPlayer abroad. You can watch BBC iPlayer from anywhere in the world.
Watch BBC iPlayer abroad with HotSpot Shield VPN
Below is a HotSpot Shield VPN video tutorial on how to unblock BBC iPlayer abroad on your mobile phone with a VPN connection from anywhere in the world.
Conclusion
If you come across to the situation where being overseas, you aren't available to watch BBC iPlayer, do not give up. All you have to do is to get a VPN service. It's a software that you can download on your computer or as a mobile app, which allows you to unblock and watch BBC iPlayer abroad. After downloading VPN software, log in and connect to a server in the United Kingdom, you won't experience any restrictions to watch your favorite shows and stream live events on the BBC iPlayer.
Try out ExpressVPN, NordVPN or IvactVPN for the fastest VPN connections and streaming speeds.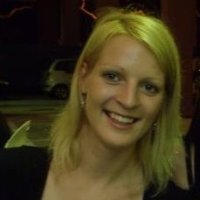 Author:
Inga
I'm a freelance writer living in Canada. Highly interested in topics on technology, online surveillance, and censorship. Love traveling and outdoor activities.